Quite a few years ago I had the opportunity to work with a Ruger 77/22 that a friend loaned me. He was just getting into the sport of .22-caliber silhouette shooting and had purchased it for this purpose. I was immediately impressed with the overall feel of the rifle and its accuracy was very good. Since there were few truly adult sized .22s available at the time, I filed away the thought that someday I would have to add one to my collection. Time went by without me acting upon this idea and it sort of got filed in the back corners of my mind. With the renewed interest my wife recently showed about shooting and her wish to claim one of my existing .22 rifles as her own, the old idea popped back to the forefront of my mind and I decided it was time to act.
My criteria was pretty simple; the new rifle had to be .22 LR, substantial enough to feel like it had been made for an adult, be a bolt action and have a reputation for being accurate. I have nothing in particular against semi-autos, but I already have two and the two bolt-action .22s I have (a 1940s vintage Remington 510 and a Daisy 2202) are too light and don't really fit my frame.
Naturally the first rifle that crossed my mind was that Ruger 77/22 of years ago, especially since I have always been a big fan of pretty much any Ruger product. Doing an extensive search of the internet was discouraging. Opinion was sharply, and often bitterly, divided as to the accuracy of this rifle. Even looking at the blogs and forums predominantly populated by diehard Ruger fans revealed that my friend's rifle wasn't necessarily the norm. Now there are always spoilers on any forum that delight in telling tales to dash the hopes of other posters, but the story was too consistent from forum to forum and from a multitude of posters to ignore. The idea of the Ruger was laid to rest.
One rifle that kept popping up on all of the forums was the CZ 455. There was a great deal of support and very little negative chatter on this rifle. Accuracy seems to be considered exceptional in the majority of cases and there were few people complaining about anything but the trigger. A big plus to the budget-minded is the fact that the 455 sells for roughly half what a Ruger costs. The Varmint version drew my eye and I was just about ready to make the plunge and order one when a random comment from one of the guys that works for me set me thinking about a rifle that I hadn't even considered; the Browning T-Bolt. Research on the internet found high praise for accuracy with the only complaint being the trigger which, though adjustable, will only go as low as around three and one half pounds. Figuring that I might still better that, I decided to make a call to my friendly gun shop and have one ordered. These are good people and only charged me their cost and a few bucks for their trouble. Added to the fact that Browning is having a promotion this month where they refund your sales tax up to 8% of the purchase price, it was a winning proposition.
The T-Bolt I bought is of the Target/Varmint configuration. This means that the barrel, at 22" in length, is of a heavier contour than the sporter version. Not a lot; more of a medium contour, but enough to add just a little more weight out front. The muzzle is cut to a recessed flat target crown with no hint of burrs. All metal work is finished in an attractive blue and is well polished. The chamber is advertised as being "semi-match"…more on this later. There are no sights and the receiver is tapped for scope mounts, but neither mounts nor rings come with the rifle. Mounts were ordered when I placed the order for the rifle. The safety is of the sliding, tang-mounted variety and is very positive while being easy to use.
The bolt body is finished bright with the rear and the bolt handle polished and blued. Action of the bolt is directly rearward and forward. When in the forward position substantial twin locking lugs protrude into matching holes in the receiver body behind the ejection port for an incredibly strong lock up. Drawing the bolt to the rear activates twin toggles that draw the lugs into the bolt to allow movement. Removing and re-installing the bolt is a bit tricky, but once you have struggled through it once or twice it all becomes clear, easy and logical. All bolt travel is in a linear manner with nothing rotating. It is relatively logical for one to make the conjecture that the lack of turning or camming coupled with minimal tolerances might well contribute to accuracy.
Browning changed from the original 5-round magazine to a newly designed 10-round one. It is roughly like a Ruger magazine but much sleeker designed. The company calls it a "helix" design that is rotary in function but when seen from the front or back gives the impression of a figure "8". To facilitate loading rounds, a thumb-operated notched wheel rotates the magazine follower for each cartridge. Loading is quick and easy once you get the hang of it and ejection of the magazine from the action is positive – almost too positive! If you don't keep the palm of your hand under the magazine when ejecting it you will be picking it up from the floor. Function during my limited initial shooting period was flawless.
The stock is of dense walnut in a Monte Carlo design which is perfect for me using a scope. With a forearm that widens into a semi-beavertail toward the front, it is both easy to grasp and sandbag friendly. A plastic butt plate is fitted to the rear and all action and barrel channel inletting is clean and precise. The receiver is glass bedded in key areas and the barrel channel is cut to free-float the barrel but not to an extent that it appears "hogged" out. Sling swivel studs are installed. The checkering is utilitarian but effective. The overall finish is a satin finish that approximates oil. The whole thing is a package that weighs in at a nominal five and a half pounds (without scope), only about a pound more than the sporter version, and balances very nicely with a very slight muzzle-heavy feel, just as I had hoped.

When I got the rifle home I thoroughly cleaned all traces of packing/shipping oil from the surfaces and bore, installed the scope mounts and adjusted the trigger to as low a setting as possible. On this rifle, that figured to be just barely less than three pounds. I had picked up a Weaver Kaspa 4-16 scope with the side-mounted parallax adjustment (Yes, I know, WAY too much scope for a .22, but what the heck.) and sorted through my drawers of rings to find a set that gave enough clearance to the objective that I can install Butler Creek flip-up covers later. Bore sighting the scope; I was ready to make some noise.
Naturally the day was windy averaging 18 mph and gusts up to 30 or so, but I wasn't about to wait for a perfect day. Setting up my bench in my garage to keep me out of as much wind as possible gave me a clear shot of 35 yards to my backstop. Grabbing a box of Remington bulk ammo and stapling up a target, I was ready to shoot.
Nestling the rifle into the sand bags, I aligned the crosshairs on my target and squeezed off a round. Of course the resulting bullet hole wasn't where the crosshairs were centered, but at least it was on the target. I learned a long time ago not to just chase bullet holes when sighting a scope, so trying to judge the wind gusts, I proceeded to fire four more rounds. As I watched each round appear to go into the same hole, I started to get a little excited and failed to catch a break on the wind for the final round. Bottom line is that the first four shots measured .236" on centers with the fifth round opening the group to .349". Subsequent shots while fine-tuning the scope and trying to read the wind averaged little more than the first group.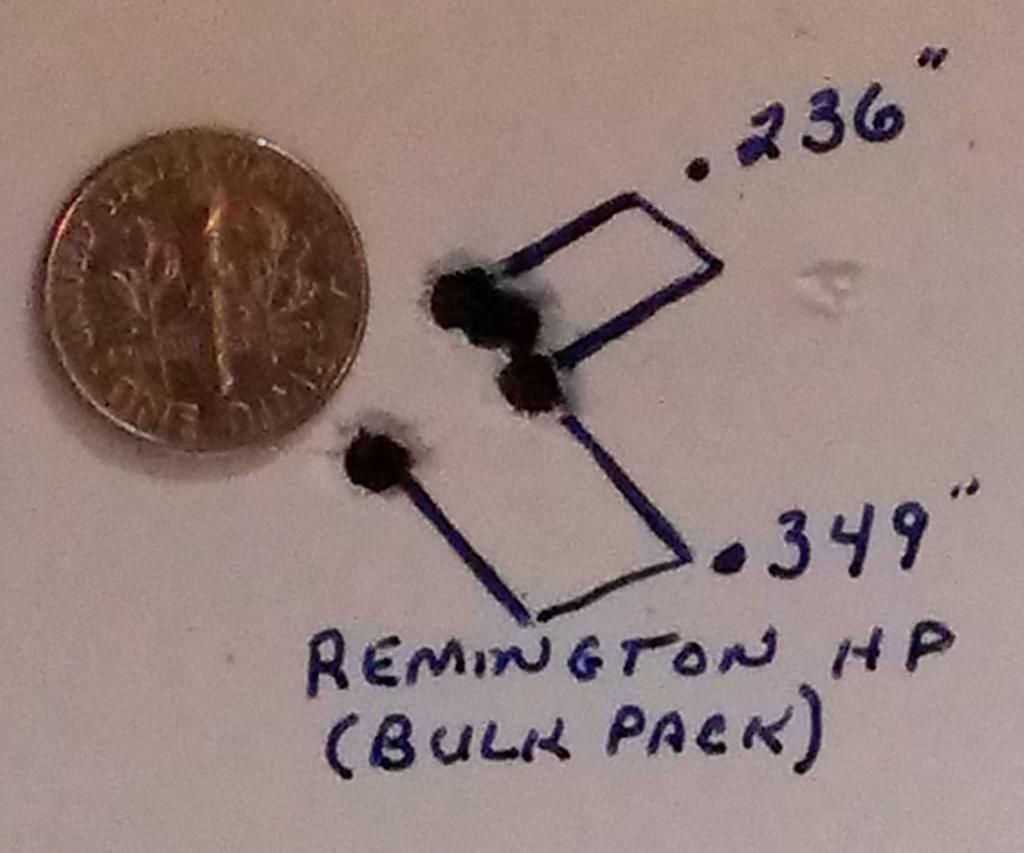 As to the "semi-match" chamber; match chambers are usually cut so that the bullet nose is jammed firmly into the rifling for better alignment and supposedly accuracy. When chambering the Remington rounds and then extracting them in my T-Bolt, the bullet noses showed a hint of rifling marks. Different brands may engrave more or less depending on actual configuration, but if that is a help for accuracy, I'm all for it. Obviously this is a keeper and I am just waiting for a better day to see what it can really do as well as try other ammunition brands.