Had a friend down from Ohio go hog hunting with me and this is what he had to say about it.
I had an interview in Midland, TX for a position with an oil company and took advantage of the opportunity to stop in on an old friend, Clint. With about a week's notice before the May 9th interview, I let Clint know and he obliged by leaving the hogs alone for another week until I arrived. This made it possible for me to get down to business with some hogs that had a two week vacation from the Vmaster.
After my interview, Clint picked me up and we made our way to the ranch, arriving about 5:00 PM. After about 45 minutes of riding, Clint stopped, pointed ahead to some rigging about 150 yards ahead, and told me that within the framework and parked equipment, there was a cattle water station that tended to attract hogs about this time of day.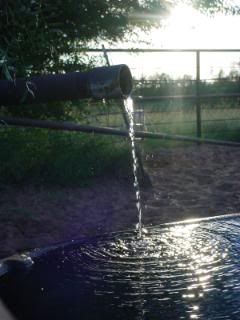 Where we were parked seemed like a good place to begin a stalk so we agreed on a signal and I obliged by walking the rest of the way up the road, benefited by a stiff crosswind which took my scent as well as some of the noise I was making away and a full cover of mesquite bushes to the watering area gave me a stealthy approach. The rest of the noise was eliminated by walking on the dust pads along the side of the road. In this way I soft-footed a silent stalk up to the area of the water tanks and was able to view the area through the holes in the mesquite foliage.
What I saw got me pumped; mama hog was there about thirty yards away in all her medium dusty brown, black spotted glory as well as some piglet feet visible underneath a vertical tank. I moved in slowly to a set of movable stairs and tried to line up on mama. The pipe framing which made a direct shot to her vitals difficult was eliminated when she moved and I finally had a clear path to the top of her back and shoulders.
I relaxed and final sighted on a spot about four inches below the top of her shoulder. Upon squeezing the trigger she was immediately flattened, falling away from the direction of the shot and beginning her squealing. I racked in another round to take out one of her piglets and was disappointed to see her drag herself up and start moving to my left.
She headed into a mesquite thicket where I could still view the outlines of her body. Abandoning the idea of whacking one of her progeny, I sighted in the area of her left shoulder, again about four inches below the top of her back for a follow up round. When I was sure of my target I squeezed the trigger. At the sound of the shot she continued to run to my left and I could no longer see her or any of her piglets.
I came off my rest and began to work my way down to the watering area. About this time Clint pulled up, having abandoned our original signal for the gunshots. I described what had happened and in the area where the second shot had been released, we found some blood spots which formed a sparse trail through the dry sandy soil. We followed these until they disappeared and both went our separate ways, looking for additional sign from the wounded sow. I backtracked to an earlier spot and followed a fence line until I found a spot where it seemed something heavy had gone underneath the barbwire.
I went further up the fence line, watching the holes in the vegetation and finally spied my prize lying still about twenty yards beyond the fence and perhaps 40 yards from where she first encountered the .243 caliber ballistic tip. I called Clint and he held the rifle while I climbed the fence. No evidence of movement came from her but to make sure, I pitched a chunk of mesquite at her which demonstrated that she really couldn't care less about mesquite or anything else at that point.
She weighed somewhere between 150-170 pounds and was dry-her piglets accompanying her now being weaned. The two shots were about five inches apart. Apparently the first shot had been stopped by her far shoulder and the second was further back and about two-three inches below the top of her back. Both were killers; she just took awhile to realize it. I kept her tail as a trophy and hope to come back in the near future to mop up some of her little ones and stay for a barbecue!
I hope the interview brings as much success!
Stoneshaper
Clint