Last Sunday a friend came over from Midland to sight in a couple of rifles. One AR in 223 Rem and one Rem. in 270. After going to the pit to sight in his rifles. I thought I would check my Ruger in 243 Win. I knew it was off and had been adjusting for it. So I took this time to zero the old Ruger. After that we went checking on the water and the cows. Till it got dark. Then went to another ranch and was checking on things and had a coyote run across the road. So Richard and I went to the next road and turned down the road to try to head it off at the pass. The next thing we saw was a coyote standing about 30 yards away just looking at us. I put my old Ruger out the window being right handed I had to shoot with my left hand. That is why I believe one should use both left and right hands at times. I no longer got the scope up the my eye and the dog started to run. So I let a 85 gr Nosler go to it's mark. Richard said "it's down!" We drove up to it and there she was. Never took another step. She was a good looking coyote all fur up with a white belly.
We heard some coyotes howling and went toward the sound. Set up to make a stand. Now I still don't have my rack in my truck yet.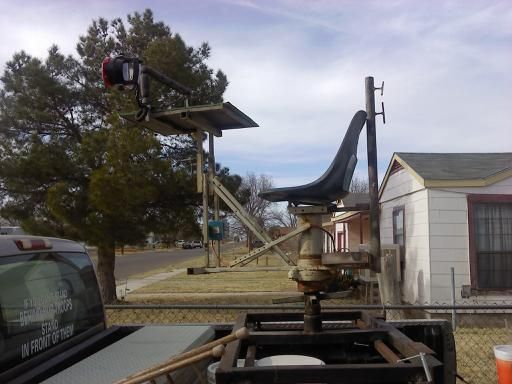 That being said I was up on the tool box calling and Richard was in the bed. He was the shooter. I started off with my AP-6 and less than five minutes had one coyote come in. But with all the brush it was hard for Richard to see him long enough to get a shot. Then on the other side of the truck I had a set of eyes come up. It kept going from bush to bush. and would only see the eyes after it was behind a bush. Then just as I thought,I saw what it was a bobcat. Had a full moon as well. So I had to keep the Kill Light on him to try and wash out us and the truck. Again Richard couldn't get a shot off. Being up higher I could see when he couldn't. Well one coyote and bobcat gone. It was about 15 minutes in to the stand. We saw another coyote run across in back of the truck. He was not stropping for anything. Kept on calling with the AP-6. Now another coyote from the left side on the truck came up for just a second and was right in our wind zone and was gone in a flash. Even had one owl fly over our heads. It was a heck of a night. We laughed and kept saying we need the rack on now! Called it a night and came home. Lot of fun with a good friend. Oh and now the rack is ready to go on my truck the next time out.
Clint