User Info

Welcome Anonymous
---
---
Membership:
Latest:
rwperez
New Today:
0
New Yesterday:
0
Overall:
13112
---
People Online:
Members:
0
Visitors:
91
BOT:
2
Total:
93
---
Who Is Where:
Visitors:
01:
Home
02:
PointBlank Ballistics
03:
Forums
04:
Forums
05:
Home
06:
Forums
07:
Forums
08:
Forums
09:
Forums
10:
Home
11:
Photo Albums
12:
Home
13:
Home
14:
Forums
15:
Home
16:
Forums
17:
News
18:
Forums
19:
Home
20:
Home
21:
Forums
22:
Home
23:
Home
24:
Forums
25:
Forums
26:
Forums
27:
Home
28:
Forums
29:
Home
30:
Home
31:
Home
32:
Forums
33:
Photo Albums
34:
Forums
35:
Forums
36:
Home
37:
Home
38:
Home
39:
Forums
40:
Forums
41:
Forums
42:
Forums
43:
Home
44:
Home
45:
Forums
46:
Forums
47:
Home
48:
Home
49:
News
50:
Forums
51:
Home
52:
Photo Albums
53:
Forums
54:
Forums
55:
Forums
56:
Forums
57:
Home
58:
Home
59:
Home
60:
Forums
61:
Photo Albums
62:
Home
63:
Home
64:
Home
65:
Home
66:
Forums
67:
Forums
68:
Forums
69:
Forums
70:
Forums
71:
Forums
72:
Home
73:
Forums
74:
Home
75:
Forums
76:
Home
77:
Home
78:
Forums
79:
Forums
80:
Home
81:
Forums
82:
Home
83:
Home
84:
Home
85:
Photo Albums
86:
Forums
87:
Home
88:
Home
89:
Photo Albums
90:
Forums
91:
Home
BOT:
01:
Your Account
02:
News
---
Staff Online:
No staff members are online!
Coppermine Stats
Photo Albums
•
Albums: 308
•
Pictures: 2451
·
Views: 818702
·
Votes: 1316
·
Comments: 86
How To Buy Ammo Online?
Ammunition informally called "ammo" is the material fired, scattered, dropped or detonated from any weapon. The word comes from the French la munition, for the material used for war.
In the modern age, almost all shopping is done online. So, if you are looking to buy ammo online, its the great way to save money on ammunition. Buying ammo online can be a great way to buy hard to find ammunition at great prices.
Things To Know Before Buying Ammo online

Beforing buying ammo online there are some important facts you need to know.
Know about your state laws: You can buy ammo online but there are some areas where ammunition can't be shipped in. A few examples are New York City and Washington D.C.
In other areas, you can't get it shipped to your house. Ammunition can only be shipped to a federal firearms license holder in these areas. Some of these are Massachusetts, New York, Chicago, and most of California.
However, keep in mind that laws can change. Always double check your own state laws before buying ammo online.

Know about shipping charges: Beforing buying ammo online know about shipping charges. Some companies offer free shipping and some others charge extra shipping charges for some areas. What you need to do is check out each website listed, read the FAQ page, the About Us page, check for hidden fees, etc., and decide which one you like the most.
Look for ammo deals: Many ammo retailers offer affordable ammo deals. Before buying ammo online search for affordable ammo deals.

Best Places To Buy Ammo Online:
Find best place to buy ammo online. Below we are sharing the list of popular online ammo stores where you can get best ammo deals from your popular brands.
Outdoor Limited: Outdoor Limited is one of the best online ammo store to buy ammo online from top brands. A leading online ammo store for bulk , box & case quantity. All the ammunition listed in the website is in stock & ready to ship. Top brands available. Special bulk ammo deals for; 22lr ammo, 223 ammo, 9mm ammo. Live inventory, safe, secure & fast shipping services always.
Ammo Board: Ammo Board, is another leading online ammo store for all bulk ammo needs. They only offer bulk ammo deals. All the ammunition listed in website is in stock & ready to ship. Free shipping always.
Foundry Outdoors: Foundry Outdoors is another online ammo store to buy ammo online. They offer great deals on wholesale ammo for rifle, handgun, shotgun & rimfire ammo to satisfy all your customer needs. They only supply ammunition to distributor only. Sign up today for account with us and you will unlock the special prices. Fast Shipping & best customer services with real time tracking services.
Bulk Cheap Ammo: Bulk Cheap Ammo is a leading online ammo directory. In stock ammunition, guns, magazines and reloading components at affordable price from top brands. There are more than 100 online ammo vendors listed in the website. Best place for gun owners to find in stock ammo real fast & compare the pricing with different vendors & get best deals on your favourite ammo on a single page.
Cheap Ammos: cheap Ammos, best online ammo store for discount coupons. Discounted ammo deals are available on Cheap Ammos. huge stock of cheap ammo available for sale in bulk and box quantities, that is ready to ship from NC.
Recommended Top Ammo Brands
There are many ammo brands available. Here the list of top brands based on price, availability.
WINCHESTER (RIFLE, SHOTGUN, HANDGUN AND RIMFIRE): Winchester ammo can be found around the world in their signature white and red ammo boxes. Rifle, shotgun, handgun and rimfire 22lr ammo, they make it all in almost every caliber imaginable.
REMINGTON (RIFLE, SHOTGUN, HANDGUN AND RIMFIRE): Remington is another famous american manufacturer of American firearms and ammunition. Founded in New York, and it holds the distinction of one of the longest continually operating manufacturers in America.
CCI (RIMFIRE AND HANDGUN): CCI, or Cascade Cartridges Inc., was founded by mechanical expert Dick Speer in 1951. Today CCI is a leader in rimfire ammunition, and they also produce centerfire pistol ammunition in select calibers.
HORNADY (RIFLE, SHOTGUN, HANDGUN AND RIMFIRE): The Hornady ammunition company was founded by Joyce Hornady in 1940.
FEDERAL PREMIUM (RIFLE, SHOTGUN, HANDGUN AND RIMFIRE): Federal Premium Ammunition is another true American original ammunition. Popular product lines by Federal Premium include Premium Personal Defense, V-Shok and American Eagle.

So, buying ammo online is really very helpful to get best deals at affordable price.
Another new way to find ammo deals for cheap ammo and bulk ammo is to use
a real time ammo listing directory website like Bulk Cheap Ammo.
---
Posted by ConnieJFerrante on Wednesday, September 15, 2021 (15:36:08) (365 reads)
comments? |
| Score: 0
Remington 870 for Hunting
Hunters have used shotguns for a long time now. Not only are they easy for shooting smaller targets that move quickly, but they can do a substantial amount of damage to bigger targets as well. With all the shotgun brands and models that they have to choose from, many hunters continue to use the Remington 870 over all other models. Remington is a brand that has existed for a century because of the high-quality construction and performance reliability of their shotguns. The Remington 870 is a pump-action shotgun, which is the reason why it is so reliable. If you were to purchase some semi-automatic shotgun, then you wouldn't have nearly as much reliability as the Remington 870. Instead, you would have a weapon that may have malfunctions during the reloading process. The pump-action of the Remington 870 will greatly reduce the chances of malfunctions.

There are many versions of the Remington 870 such as the Remington 870 Express and Remington 870 Tactical, but the most popular one used for hunting is the Remington 870 Wingmaster. This particular shotgun contains a forend and stock made out of wood and it is truly an American classic because it is one of the first Remington 870s to actually be used for hunting. Its two most popular gauges are the 12-gauge and 20-gauge, but you can choose other gauges as well. But what is most admired about the Remington 870 Wingmaster is its durability and strength. In fact, it is even stronger than many of the modern-day shotguns because the Wingmaster is manufactured with quality in mind.

Another reason why hunters love the Remington 870 so much is because it is one of the most affordable shotguns out there. Most shotguns that are suitable for hunting will cost over one thousand dollars. However, you can purchase a Remington 870 Express for under five-hundred dollars and it will be more reliable than those more expensive shotgun models. And if that's not enough, the Remington 870 can be upgraded with new parts in case you want to get rid of the factory-grade parts that come with the weapon. You can add or exchange lots of parts on the weapon such as the barrel, stock, forend, choke, safety, follower and so on. This allows hunters of all shapes and sizes to get more comfortable with their Remington 870 and to adjust the weapon in a way that makes it easier for them to shoot their target while maintaining accuracy.

When you use a Remington 870 shotgun for hunting you'll want to upgrade your shotgun with a long barrel and a choke that is suitable for shooting the game that you're going after. Long barrels are good because they have Rem choke system. Remember that chokes will allow your shots to be constricted in different ways as the birdshot comes out of the barrel. So, for example, if you wanted to hunt wild turkeys in the forest then you would use a tight turkey choke. That way, the pellets are more constricted and will shoot out into a shorter radius around the turkey, causing more damage to it.
Now if you wanted to hunt smaller game like ducks, you would want a wider choke on your shotgun so the pellets could spread within a wider radius toward the target. This would ultimately increase your chances of hitting a small, fast moving target like a duck. As for the sighting, long barrels have longer sighting plane which makes it easier for the shooter to aim properly. If you had a short barrel, the shorter sighting plane would make it harder for the shooter to accurately aim.

The Remington 870 is a multi-purpose pump-action shotgun that is suitable for home defense, law enforcement purposes, and hunting. The big question that a lot of novice hunters have is, what kind of animals can you hunt with the Remington 870 shotgun? The basic answer to this question is all types of animals. You could hunt ducks, geese, pheasants, grouse, turkeys, chukar, doves, or even deer with a Remington 870 shotgun. It doesn't matter how big the animal is or how fast the animal is. The Remington 870 has the power and ability to stop any animal in its tracks. That is why the weapon has been used by hunters for nearly a hundred years now.
Of course, you must set up your shotgun with the right choke and ammunition before you go out hunting for a particular type of animal. That way, you can improve your chances of hitting the animal without wasting lots of time and ammunition. The Remington 870 provides users with the versatility of customizing their weapon in a way that suits their shooting needs. There aren't too many other shotguns on the market that give you such a wide range of upgrades and choices. You just have to understand which chokes and ammunition are suitable for whatever it is you're hunting.

For example, if you are using slugs as ammunition for your Remington 870 and you go out trying to shoot flying ducks with it, then you're likely going to have a difficult time hitting them. You would need shotshells with pellets in them, like birdshot in order to increase your chances of hitting the ducks because the pellets will spread within a wider radius when they leave the barrel of the gun. Now if you wanted to hunt a bigger animal like deer, then slugs might be more appropriate because you need more precise ammo with more stopping power. Slugs will likely kill the deer upon impact whereas pellets would just cause the deer to suffer in pain. This is what makes the Remington 870 so great because it allows you to use different chokes to control the spread of your shots and different ammunition for the animal you're hunting. You could literally hunt any type of animal with the Remington 870. Just make sure it is legal to hunt the animal you're going after in your particular location.

Vitaly Pedchenko, owner of the Rem870.com – blog and forum about Remington 870 shotgun. Competitive shooter and gun enthusiast. Author of the "Complete Remington 870 Guide" ebook.
---
Posted by rem870 on Thursday, February 16, 2017 (02:12:55) (2227 reads)
comments? |
| Score: 0
Getting more mileage from your .375 H&H
I've been toying with getting more mileage from my .375 H&H rifle. While I have developed some good hunting loads with several different conventional bullets, I wanted a cheaper, reduced recoil load that I could use for both hunting deer or just having fun at the range. Casting my own bullets was an obvious starting point as they work out at a fraction of the cost of conventional commercial bullets.

After significant development, I have finally settled on the following load:
Projectile: Cast from wheel weights plus 2% tin. Molded in a Lyman 375449 Mold and water quenched then aged for 3 months (not sure if ageing makes any difference). Lubricated with Lyman Orange Magic lube and using a Hornady gas-check.
Powder: 50.0 grains AR2206H (identical to H4895)
Primer: CCI magnum
Case: Winchester
C.O.L: 88.5mm
Averaged Velocity: 2133 fps
Accuracy: shoots 1MOA consistently - a nice load!
This load shoots exactly 3.0MOA lower than my normal hunting load using conventional bullets. No sign of leading in my rifle at all. This load feels about the same as a 180 grain .3006.
Yet to try this load on deer but I intend to once the weather improves.

Also developed a subsonic load for the .375 H&H.
This load comprises:
Projectile: Cast from 100% lead. Molded in a Lyman 375449 Mold and air cooled only. The aim is to achieve a soft projectile. Lubricated with Lyman Orange Magic lube and using a Hornady gas-check.
Powder: 13.0 grains Trailboss
Primer: CCI magnum
Case: Winchester
C.O.L: 88.5mm
Averaged Velocity: 1033 fps
Accuracy: shoots 1.5 MOA
Using a Gunworks Maximus supressor, this load makes the same amount of noise as a .22LR subsonic round fired with a suppressor. I'm yet to try this load on game.

Shoots clean with no sign of leading in my rifle. This round drops 14MOA compared to my conventional hunting loads, however, there is no deviation left and right.

While developing this load I tried a range of Trailboss powder weights from 25.0 grains to 11.0 grains using the same 100% lead projectile, case, primer, lube, and C.O.L.
I recorded velocities for loads less than 19.0 grains Trailboss. Average velocities were:
19.0 grains Trailboss - average velocity of 1277 fps Group approx 6MOA
18.0 grains Trailboss - average velocity of 1230 fps Group approx 2.5MOA
17.0 grains Trailboss - average velocity of 1227 fps Group approx 6MOA
16.0 grains Trailboss - average velocity of 1171 fps Group approx 6MOA
15.0 grains Trailboss - average velocity of 1128 fps Group approx 6MOA
14.0 grains Trailboss - average velocity of 1073 fps Group approx 6MOA
13.0 grains Trailboss - average velocity of 1033 fps Group approx 1.5MOA
12.0 grains Trailboss - average velocity of 978 fps Group approx 2.5MOA
11.0 grains trailboss - average velocity of 921 fps Group approx 2.5MOA

Groups comprised 3 shots and there seemed to be an improvement in group size at around 13.0 grains Trailboss. All rounds shot cleanly with no sign of instability in my rifle.

Next task will be to further refine this load with smaller powder increments between 13.0 - 14.0 grains Trailboss.
---
Posted by Waimahana on Wednesday, October 12, 2016 (16:34:29) (3478 reads)
comments? |
| Score: 0
Bow types
There have been many types of bows throughout their evolutionary history. As simple as they seem, bows have gone through thousands of iterations to become what they are today. Starting thousands of years ago with primitive humans, bows were first made of simple materials but have now evolved to include materials such as carbon fiber and fiberglass. As a visitor to this site you have more than likely shot at least one type of the four currently most popular bows, but have you ever thought about exploring other types of bows? Read on to learn more about your options- maybe you'll even consider purchasing another bow type after learning a bit more!



Longbow


Made from a single piece of wood or several laminations, the longbow is a highly primitive yet deceptively effective form of the common bow. This bow has recently seen another surge of popularity. If you haven't shot a longbow in the past, now is a great time. This type of bow is easy to pick up and is often a secondary bow of choice for archers looking to have a bit of fun with a twist. Importantly, all types of archery competitions in the UK recognize the longbow type (field, flight, clout, target) but only in world archery field and 3D internationally. These types of bows were first known to be used in the early 13th century and do not have the same velocity as the compound or recurve bows.



Recurve Bow


Historically this type of bow is known for being used by men on horseback and today it is known best for its use in the Olympics. It you take a look at the shape of the bow, you can immediately see where it gets the name "recurve" from. As with all types of bows, the central portion of the bow points away from the archer and the limbs gradually curve backward- but in the recurve bow, the limbs distinctively change direction once more and begin to once again curve away from the archer at the tips. Simple physics tells us that this shape of bow takes some tension off the draw and gives the bow a bit of added power. If you were taught to shoot a bow the old-school way, you may have seen this one as a kid. The modern version of recurve bows are takedown because they consist of three parts and a handle. These parts are referred to as the riser and a pair of limbs.



Compound Bow


This advanced form of bows makes apparent the iterations that these weapons have been through. Physics has dictated distinctive curvature in order to optimize all aspects of using this bow. Often times you will see metal risers and composite limbs on compound bows and obviously there is a bowstring. The limbs are shorter than the other types of bows and there is a clearly complex pulley system that depends on wheels or cams. These types of bows were first produced in the 1960's and utilize the complex pulley systems to assist the archer in holding a heavy draw weight even at full draw. Because of this attribute, these bows have deadly accuracy and give the archers additional time to aim without incurring muscle fatigue associated with normal draw weights.



Crossbow


Crossbows are thought to originally come from China. Upon first glance, crossbows bear resemblance to firearms due to the way they are held and fired. The bows are drawn back by a crank and the string is attached to a trigger mechanism that is locked into place until it is pulled. Crossbows have short ranges and often do not perform to the standards of other types of bows. Performance of this type of bow can be increased with heaver draw weights but the amount of weight required must be disproportionally heavy to perform near the level of a more advanced bow type. Crossbows are the most highly regulated type of bow.
---
Posted by JoshTim on Sunday, September 25, 2016 (00:22:30) (2594 reads)
comments? |
| Score: 0
2014 Utah Mountain Goat hunt
2014 Utah Mt Goat hunt, Beaver Ut.


The story of this hunt started 17 years ago, when my wife chose to apply for a Mountain Goat tag. We knew it would take a long time to draw, but it would be worth it. Each unsuccessful year of drawing gains a "bonus" point that helps increase the odds of drawing. The system is set up to guarantee a person a tag if they put in long enough. I thought she would have a better chance at getting that than Bison or Moose in Utah. As it turned out, this certainly was the right decision!

In the spring of 2014, we got the drawing results that stated she finally drew her Mt goat tag for the early season hunt, in the Beaver Utah unit. We immediately started making plans, getting vacation time approved, Googling up gear ideas. We even decided it was finally time to upgrade the old spotting scope I've used for 20 years, I figured it would save us alot of hiking come hunting time to be able to glass canyons from a greater distance.

We decided to head down to this mountain range around the 4th of July, to camp and scout a bit. We arrived in the town of Beaver, ready to head up the canyon. We still had over 1/4 tank of fuel in the truck which I decided was enough, but my wife wanted me to stop and fill up. I said we were fine, she said she really thought we should stop, so I decided "ok fine, we'll get gas". At that point we pulled off in a small gas station / mechanic store and started pumping fuel. It was an incredible stroke of luck that we stopped there! A very friendly older man was filling up paper towels and asked where we were going camping, my wife said we were headed up to look for Mt Goats as she drew a fall tag. He stopped and said "That's neat, the guy I work with actually guides for Mt Goats up there". I immediately asked if this guy was around and if we could talk to him. Sure enough, he was there and we had a great time chatting. Sometimes in life you meet people you just "click" with, Kasey Yardley was certainly one of those. He seemed very knowledgeable about goats and had alot of experience hunting them. He talked about taking Karl Malone up for a nice goat, and he took Jerry Jones, the Dallas Cowboys owner up last year for a nice goat.

We continued to chat and I asked him his prices. He quoted me a reasonable "working mans price" and said "We'll go in on horses, have alot of fun and get her (my wife) a nice goat. It will be alot of fun". I said that sounds fantastic. I told him I'd call him later in the week when we got done with our trip and let him know our decision.

The road up from Beaver was steep, halfway up we turned off onto a dirt road which was even steeper. It was in good condition, just steep. I used 4x4 low range to drag our camp trailer up it. The main flat everyone camps at is called Big John Flat and is located at 9,950ft elevation. Unfortunately, we didn't know the Forest Service gates off the road at different elevations in the spring to keep trucks from tearing up the muddy roads. As the snow melts off lower elevations and the roads dry, they unlock a gate allowing traffic up to the next gated section. It was July 3rd and the top most gates were still locked because of a few snow drifts that hadn't melted yet, one of which was still 17ft deep.

Limited by the few roads up there, we made some short hikes and glassed with the new spotting scope into various valleys and up on ridges. The new spotting scope was just incredible, such a difference over the cheap 20 year old Bushnell spotter that had been dropped or fallen off an ATV more times than I could ever count. We saw many deer, lots of elk but no Mt Goats. Finally on the last day we were camping, we drove up to the locked gate, and hiked up a to a flat spot and glassed again. We were rewarded with a view of 30-40 Mt Goats feeding up the ridge a mile away. Pretty stoked to see goats, knowing we'd be hunting them in a few months.

After we returned from the camp, we made the decision to hire Kasey and his group to get us into the goats. Going in on Horses and Mules sounded like a much better deal than trying to do this solo on foot. We called him up and worked out a deal to hunt. There was one hiccup though, we received a letter from the DWR stating they would begin a helicopter transplant a few days before her hunt was to start. They stated they didn't think it would affect the hunt as Billies should be in a different area, as it turned out, the billies did move into different areas but it worked in our favor.

As we got close to the season, we finally locked down the day we would hunt and a time to meet up. Sunday morning, we met up with Kasey and his partner, Kurt Wood at 5am, then trailered the horses up to 11,000ft and unloaded. We saddled up and headed up across the mountain tops and enjoyed the rising sun.



Beautiful sun rise touching Mt Baldy in the Tusher mountain range.



The tops of the Tushar mountains are rolling terrain, with big cliffs dropping off the east sides. Along the top, its relatively easy going terrain that certainly doesn't look like its at 12,000ft!



As we were enroute to the spot we were going to hunt, we spotted a herd bedded down ahead of us on the trail. Barely visible in this picture on the right side on the ridge.



From a distance of 400-500ish yards we could see 2 billies worth getting a closer look at.



We left the horses and circled around a peak to get within 380 yards. Most of the goats were bedded down. From this vantage point it was clear there were 2 +9inch billies worth shooting, as well as a huge 11inch nanny



We setup packs as a rest and Heather got setup for a potential shot. As we watched the goats, they laid down and continued to sleep. After 30 minutes we decided to move closer and carefully made our way down to within 340 yards.



A better look at the two shooter billys, in the center.



From here, we continued to watch the goats... for another hour. All the while my wife laid prone looking through her rifle scope. She got pretty numb being in that uncomfortable position for so long. Eventually the bigger billy shifted position exposing the vitals and we decided to let her try a shot. Unfortunately, fatigue had taken its toll and her shot was just low on the goat.

The herd quickly reacted by jumping up and wandering uphill over the ridge. They didn't really understand what the sound was, so they seemed to calm down as they moved up and out of sight. Kurt felt they wouldn't go very far and we could quickly move up and intercept them.



As we moved up and crested the ridge, there was a "wall" of rocks that hid our approach allowing us to get within 240 yards of the goats who were then feeding in front of us. Kurt quickly got his spotting scope set up and tried to identify the bigger billies which was hard to do as they were feeding away from our position.



It became quickly apparent the bigger goat on the right was one of the two "shooter" sized billies. With the distance widening quickly, we got Heather set up on the rocks as a solid rest and waited for a clear shot. With only moments to try and get a shot off as they moved away from us, this billy on the right seemed to be the best choice for a shot.




Total stud goat, all fluffed up and looking really buff. What a bruiser with the big neck hump.



Finally he was clear of the other goats, and stopped quartering slightly away. This picture is only a few seconds from my wife's shot, it hit perfectly with a 165grn Nosler Partition right through the lungs. The goat reared up with the shot then took off, running out of sight to the left. We gave it a short time to expire as we waited for Casey to bring up the horses. He arrived, a bit worried that there was a big cliff just past where we last saw the goat.



We hurried up and looked over the edge of the steep hillside. The remainder of the herd was scrambling out the bottom, nothing appeared hit and it seemed to be a few missing.




We split up on the ridge and started looking for blood, I moved west, Heather and Casey went east. Kurt and the boys were behind us still. I worked my way a little further down the ridge to see better when suddenly 50 yards past me some rather large rocks went tumbling down the hillside. I quickly moved over and saw the head of the billy swinging around. Crud! It was still kicking a bit and sliding down the steep hillside. I carefully moved as fast as I could back over to where Heather and Casey had gone and finally found them, a big waving of arms got them headed my way.

I stayed higher on the ridge to give them room to move up on it, took a picture as it laid there, tail still flipping around.




With the goat potentially able to slip further down the steep hillside, they decided to put one more anchoring shot into it.




Done deal! After that they moved up and verified it was done. Big smiles all around! It was pretty treacherous where the goat came to a rest, we were all slipping and sliding in the rocks on the steep slope. But everyone was pretty thrilled with the harvest.




Smile says it all, very happy with this billy.



They aged it at over 6 years and +9 inch horns. A very nice trophy.



Posing and picture time. We got him up on this rock and shot a bunch of different pictures. Picture doesn't show it but we were all hanging onto the side of it to keep it upright. It had nice hair for as early of a hunt as it was, they would put on more over the next month but we were thrilled with how well his cape looked. Nice beard and "chaps" down the legs. Never realized how bushy of a tail they have either. Me, our boy Tate and Heather: Smiles all around!



Kurt, Tate, Kason and Heather.



Kurt Wood, Kasey Yardley and Heather. Great bunch of guys, very fun to hunt with.



My favorite picture, goat looks really bushy and the thick horns really stand out.



Picture looking across the canyon we were on. The purple cliffs on the left edge is where Karl Malones goat tumbled down. I am so happy this one didn't take a similar tumble.



Top of the world. Not many places you can hunt Mt Goats from a Horse. Its a very unique and cool mountain range. Google earth showed we were at 11,800 ft where the goat was killed, We were only 400ft from the top of the highest peak in the range.




Trail ride back.



My boy Tate.



Me on a Mule.



Kasey, Kason and Kurt. Made it one heck of a fun hunt.



I think I know what the family Christmas card will be this year
---
Posted by DallanC on Friday, September 12, 2014 (22:46:43) (6218 reads)
comments? |
| Score: 4.88
Scopes with BDC Reticles for Centerfire Rifles
In the process of researching a new scope selection, I investigated the bullet drop compensation (BDC) reticles I found in scopes that I could afford to purchase. I saw no clear choice for my application. Each manufacturer's BDC set-ups had advantages and disadvantages. Here is an overview of the different reticles I looked at in alphabetical order with Mil-Dot at the end.









Burris

has a Ballistic PlexTM and a Ballistic Mil-DotTM Reticle. They both have similar BDC tics on the lower portion of the reticle but the latter gives you the advantages of Mil-Dots on the upper and horizontal cross-hairs. The Ballistic Mil-DotTM is only offered on higher power scopes, 4-16X and above and 14x is used for the BDC reference. There is no wind compensation integrated with the Burris reticles. The Ballistic PlexTM crosshairs are designed for a 100-yard zero for standard calibers and 200 yards for flatter shooting calibers. The Ballistic Mil-DotTM crosshairs are designed for a 100-yard zero and intended for flat shooting calibers. Burris has a wealth of information on their website but it is hard to find. Try the web address below to download Burris' BDC files. With a Ballistic PlexTM and 100-yard zero, my .308 would be 2 to 3 inches high beyond 300 yards. Using a 200-yard zero, the ballistic match had even more disparity between this BDC reticle and my .308 rifle's trajectory.






DOA







Bushnell

has introduced a BDC reticle called DOATM, Dead On AccurateTM. It is designed to be sighted in at 100 yards with aiming references out to 600 yards and is referenced to the scope's maximum power setting except for their 4.5-30x scopes which are referenced to 20x. Heat mirage affects could be an issue on hot days with the 2.5-16x and 4.5-30x models. Scope power can only be decreased to tune to your ballistics if your rifle doesn't shoot as flat as Bushnell's BDC settings except for the 4.5-30x models. The DOATM reticle is unique in that it provides range estimating by references 18" or 24" wide marks to the ears tips of a whitetail or mule deer, respectfully. Deer in Southern States typically have an ear tip to ear tip spread of around 13 inches. To get the DOA's range estimating technique to work, you have to be looking at a large deer and get the deer to look in your direction. This isn't the case for other BDC reticles that provide range estimates based on the height of a deer's chest cavity. The best application of these spread marks is to reference antler size when the deer is at a known range. The DOATM crosshair reference points use a 1 MOA filled-in circle, 4 times the size of a typical crosshair. There is no wind compensation designed into this scope other than what you can derive from the 9" and 12" reference marks each side of the vertical crosshair. Using a 100-yard zero with my .308 rifle's trajectory and magnification set at 13.5x for the 2.5-16x scope, the ballistic impacts were on at 200 and 300 yards, an inch high at 400, then much higher at longer ranges by 4 to 10 inches. I found this to be the case with other calibers using boat-tail bullets. The only close ballistic matches I found to this reticle at longer ranges were with flat-based bullets, e.g., Remington's .243 100gr Core-Lokt and Federal's.270 130gr Soft Point, .270 150gr Soft Point Round Nose, or .30-06 150gr Soft Points. These are not bullets I would use for long range hunting.










Cabela's

Alaskan Guide Rangefinder BDC scopes have the quickest range estimation to shot down-range that you can find. You don't have to twist any knobs, take your eyes off your target, or take your rifle off your shoulder to read a dial. The reticle grows and shrinks with magnification, like a European-style scope, so range estimation and BDC work at any magnification setting. This means there is no capability to change magnification to tune the BDC reticle for your rifles performance. The advantage of this set-up is simplicity, e.g., you don't have to remember to set a magnification to get the correct BDC or worry that it might get bumped off your setting. There are no thick posts to help with low-light situations. The scope is intended for a 200 yard zero with 8 inches of trajectory drop at 300 yards, 23 inches at 400, and 44 inches at 500, typical of .30-06-like performance with boat-tail bullets. The only tuning you can do to match your rifle's performance is to sight your rifle in slightly high or low at 200 yards to better fit the trajectory drop marks at longer ranges. You can also do simple windage estimation because the centerline circles allow you to project a 9-inch cone either side of the center crosshair at any range. If this BDC reticle closely matches your rifle's performance, like it did my .308 and the .30-06 factory ammo I checked, it is a good option to consider.










Cabela's

new EXT Reticle was recently introduced on their Pine Ridge and Alpha Series scopes. Unlike Cabela's Alaskan Guide Rangefinder (above), it is intended to be sighted in at 100 yards. You can also tune the EXT Reticle to your rifles trajectory by lowering magnification if your rifle doesn't shoot as flat as the EXT Reticle's ballistic compensation or increasing magnification if your rifle does shoot a flatter trajectory (up to 20%). On their Alpha Series 3-12x scope, the EXT Reticle is referenced to 10x for rifles with .30-06 or similar performance. The directions do not provide any MOA values so I set the scope up in a vise, viewed a point target at about 100 yards to eliminate parallax, and used the elevation turret to click off the distance between BDC marks. The ballistic drop for each BDC reference at 10x measured as follows; 200 yard-tic, 3"/1.5 MOA; 300, 11.3"/3.75; 400, 25"/6.25; and 500 yard, 46"/9.25 MOA. Again, increasing magnification above 10x reduces these values proportionally and reducing the power setting increases these values proportionally. Horizontal BDC crosshairs are 3 MOA wide at 10x except for the wider 300 yard reference which is 8 MOA. This equates to 24 inches wide, 12 inches either side of the crosshair at 300 yards at 10x. For my .308 with the 3-12x scope, the ballistic match was right on at all ranges with the magnification set at 9x. I verified this with shots at 100 and 300 yards. Based on factory data, 9x was also a good power setting for.30-06 ammo with 150 gr boat-tails. My .270 Win with 150 gr Berger VLD bullets had a good ballistic match with the power set at 10.8x. This scope provides an affordable and effective BDC solution.

This can also be used to measure rack size. Using the crosshair on top of the back of a deer, you can get a range estimate using the BDC marks referenced to the bottom of the chest.









Nikon's

BDC reticle uses a series of circles for aim points sized to be 2 inches at 100 yards or 2 MOA, i.e., 4 inches at 200 yards, 6 inches at 300 yards, etc. There is no wind compensation integrated with their BDC reticle. The reticle is designed for a 100-yard zero for standard calibers and 200 yards for flatter shooting calibers. The top and bottom of the aiming circles can be used for intermediate ranges. With a 100 yard zero, if you rifle shoots flatter than the reticle's trajectory compensation, then you can either compensate for point of impact being high or sight in for 200 yards and turn down the magnification to tune the scope to your rifle's trajectory curve. As an example with my .308, the downrange impacts would be 1 to 2½ inches high with 100 yard zero (this would be considered adequate for most hunting situations). I could sight in for 200 yards and get a good trajectory match with a 3-9x scope set on 7.6x magnification. If I want to shoot at 9x with a 200-yard zero, I would have to define specific ranges for each circle. Example, the first 1st circle would be on target at 285 yards, the 2nd circle would be on at 375 yards, etc.

http://www.nikonhunting.com/en/Nikon-Products/Scopes









Leupold

has a capable set-up with range estimation and wind compensation available on their VX-III scopes. Range estimation is accomplished by adjusting magnification until the animal's chest fills the crosshairs up to the tip of the top thick post then reading the range in hundreds of yards on the other side of the power ring. Range estimation assumes an 18-inch chest depth. Wind compensation on their Boone & CrockettTM Reticle is for a 10 mph crosswind component. Depending on the performance of your rifle, zero ranges are designed to be 200 or 300 yards with some calibers requiring a lower power setting for accurate trajectory matching which is marked by a small triangle at 8x on their 3.5-10x and 11.2x on their 4.5-14x scopes. You can fine tune the BDC reticle to your rifles performance by adjusting the magnification to provide proportionally more or less bullet drop. In the case of my .308 and their 3.5-10x scope with a 200 yard zero, the BDC reticle would be tuned with the scope set on 8.8 magnification. Specific reticle details regarding calipers, bullet velocities, and MOA of reticle markings can be downloaded from the Leupold's website, file name "Leupold Ballistics Reticle Supplement" (see link below). The Leupold VX-III scopes have less range of magnification than other manufactures, e.g., 3.5-10x vs 3-12x, 4.5-14x vs 4-16x. Leupold's 4.5-14x is nice at the higher power settings but if you read the specification, their 4.5 is really a 5x magnification (4.9x).






EBX







Weaver

is entering the market with a BDC reticle (Fall 2009). Their EBX reticle is offered on their Super SlamTM scopes which have a 5:1 magnification capability, e.g., 2-10x, 3-15x, and 4-20x. The EBX provides wind compensation for a 10 mph crosswind component. You should be able to fine tune the EBX reticle to your rifles performance by adjusting the magnification to provide proportionally more bullet drop if your rifle doesn't shoot as flat as Weaver's BDC. Preliminary plans are to reference the EBX reticle at full power. If your rifle shoots flatter you will have to use different ranges, e.g., .270 Win 110gr bullets would be 200 yards, 330, 455, and 570 yards (use link below for your specific caliber). In the case of my .308 and their 3-15x scope with a 200 yard zero, the BDC reticle would be tuned with the scope set on 13.5x magnification. If Weaver goes into production with the EBX reticle referenced to full power, then there is the possibility heat mirage affects could be an issue on hot days with the 3-15x and 4-20x models. If Weaver references the EBX reticle on these two models to a power setting less than 15x and 20x, then these models will have the capability to be tuned to for flatter shooting rifles.


http://www.weaveroptics.com/resources/ebx/






The Mil-Dot reticle is a standard for almost every manufacturer and has a center crosshair with dots spaced one milli-radian apart, the equivalent of 3.6 MOA or 3.6 inches at 100 yards. The dots are typically 0.2 mils in diameter. A Mil-Dot scope can do it all; range estimation, BDC, and windage. However, it takes some calculation and memorization of what range each mil-dot represents. Some shooters affix a ballistic reference card to their rifle stock. Range estimates for a deer or antelope sized target, assuming an 18-inch chest, are 5 mils for a deer at 100 yards, 2.5 mils for 200 yards, 1.7 for 300, 1.25 for 400, and 1.0 mil for 500 yards. Military sniper scopes of the recent past have been 10x which has become a standard reference for many variable power Mil-Dot scopes but not all. Thus, check to make sure what magnification power the Mil-Dot reticle is reference to. Some manufacturers will use the scopes maximum power. You can search the web and find abundant information on how to use a Mil-Dot scope.

http://www.eabco.com/Reports/MildotRep01.htm
http://www.mil-dot.com/

It turns out that a Mil-Dot reticle can be an effective BDC reticule if your muzzle velocity is around 3000 fps and your bullet's BC is near 0.5. The link below takes you to a thread with an excel spreadsheet that can you can use to tune a mil-dot reticle to your firearm out to and beyond 500 yards along with lessons learned trying to shoot at these distances.

Bullet Drop Compensation w/ Mil-Dot Reticles: an Alternative




Closing


There is an aspect of BDC reticles that I didn't realize before I bought my Mil-Dot scope. You can usually reduce magnification to provide increase trajectory drop, but if your rifle shoots flatter, there is typically not an option to increase magnification to reduce trajectory drop because most of the BDC settings are already designed for a scope's highest power settings. Your option is to sight in at a longer range like 200 or 300 yards and or learn to compensate for your bullets impacts being high at each range tic. As it turns out, a Mil-Dot reticle is best for my application because my .270 Winchester load, using Barnes' 110 gr TTSX copper banded bullets with their higher velocity, shoots flatter than the BDC reticles I considered. The only BDC scope that would have come close to matching my rifles performance was the Burris Ballistic Mil-DotTM but at the longer ranges my impacts were still high. If you rifle is a flat shooter, I would suggest doing some homework to see how well the BDC scope you intend on buying can be matched to your rifle's performance. This may also be important with standard calibers because each BDC reticle is different. The link below takes you to a thread that includes an Excel worksheet that allows you to compare trajectories for the different BDC reticles and determine what magnification setting best tunes to your rifle's performance. If you fine tune a BDC to your rifle's performance by reducing the scopes magnification, you will most likely need to mark that power setting in some manner as a reference. The examples of BDC tuning to my .308 in the paragraphs above were done referencing ballistic trajectory tables and the fore mentioned Excel spreadsheet. In all cases, verification of your rifle's performance needs to be accomplished with shots downrange. Remember, there is no substitute for practice!!!

Scopes with BDC Reticles for Centerfire Rifles

---
Posted by slimjim on Wednesday, May 07, 2014 (00:57:55) (9850 reads)
comments? |
| Score: 0
Paper cartridges for muzzle loaders
Paper cartridges for muzzle loaders
by Mike Hines

When I started doing Civil War reenactments in 1981 the first thing I learned was to make paper cartridges for my reproduction 1853 Enfield. Over time I experimented some and found a method that has worked well for me. "Rolling" a live cartridge is slightly different than making up a blank one so I'll explain both methods.

My tools for rolling paper cartridges consist of a brass tube with a plastic funnel glued into one end and wooden dowel that will slide inside the brass tube. For a .58 or .69 caliber cartridge I use a 0.5" diameter brass tube. I want the cartridge to fit inside the muzzle for easy pouring. For a smaller cartridge I'd use a smaller tube, maybe a 0.375" diameter tube for a .45 caliber. An easy way to cut the paper is suggested, I use an X-Acto cutting board.

The original Civil War paper cartridges consisted of five parts: the bullet, the powder, a paper powder tube, a paper wrapper and a piece of thread to tie off the end of the cartridge. The powder tube was made of a heavy paper; card stock seems to work well. The wrapper needs to be sturdy enough to endure moderate handling but weak enough to be easily torn using the teeth. Newsprint paper works well.

You might have to do some experimenting to determine what size to cut your paper for the powder tube. You want the tube to hold your powder charge with just a little room to spare. For the 60 grain charge (by volume) used in the .58 caliber I found that a 2" by 2.5" rectangle would work. I marked my brass tube with a permanent marker 1.5" from the end so I'd have a powder tube that tall.

The standard wrapper for the .58 caliber cartridge is a trapezoid shape with base measuring 4.33", the short side measuring 3.0" and the long side measuring 5.25". The long side runs the length of the cartridge and the pointed end will be the part you tie off. I again marked my brass tube 4" from the end to show the correct position for the wrapper.

Now to get to rolling…

Place the piece of card stock for the powder tube in position on the brass tube and roll it around the brass. Fold the seam across the opening of the brass and then fold the rest of the paper in to close the end. Use the wooden dowel to push down through the brass to help secure this fold.

Position the bullet at the closed end of the powder tube and wrap them both with the outer wrapper. Twist the exposed end to conform to the shape of the nose of the bullet. You can stand this on the funnel end of the brass tube while you tie the pointed end off with a piece of strong thread.

Invert the brass tube and pour your pre-measured powder charge into the cartridge through the funnel. Slide the cartridge off of the brass tube, nose down of course!

Flatten the wrapper tube from the end to just above the powder tube. Fold this flat across the mouth of the powder tube and then up the side of the cartridge. Some like to fold this tail in half lengthwise, or even into thirds, to provide a better grip for your teeth when opening it.

For a blank cartridge I dispense with the powder tube, and obviously the bullet! I cut a 4" square of newsprint and wrap it around the brass tube, leaving about 0.5" hanging off the end. Fold this as you do with the powder tube to close the end. Dump the pre-measured powder into the funnel. For .58 caliber blanks I use 30 grains of powder, all you need is the bang and some smoke. For .69 caliber I have to step up to 50 grains to get reliable ignition. Apparently the smaller charge can lie beneath the path of the spark in the larger bore. Slide the cartridge off of the tube and fold the tail as before, a little above the level of the powder. Note that the cartridge paper is discarded and NEVER placed in the bore for reenactments!

To use the cartridge you hold it in the right hand with the bullet down. Grip the cartridge so you control the powder tube and push the tail up for easy access. Grip the tail in your teeth and tear it off, exposing the open end of the powder tube. Spit the tail out, unless you like chewing newsprint. Dump the powder into the muzzle of the gun. Break or tear the wrapper again to remove the powder tube. This can sometimes be done by striking the muzzle with the tube, right behind the base of the bullet. You should now have just the wrapped bullet in your hand. Squeeze the bullet out of the wrapper into the muzzle, discard the rest of the wrapper and ram it home. A really accomplished shooter is said to be able to fire three rounds per minute. Really makes you appreciate metallic cartridges, doesn't it!
---
Posted by Pumpkinslinger on Monday, December 30, 2013 (16:53:00) (3405 reads)
comments? |
| Score: 0
PACT High Speed Digital Precision Powder Dispenser
PACT High Speed Digital Precision Powder Dispenser
by Mike Hines (originally written in 2005)

Whenever I make up loads that will be near maximum pressure for hunting, or that require extra precision for matches or varmints, I like to weigh every powder charge. The spherical and flake powders generally meter very well, so all I need to do is throw the charge with my old RCBS powder measure and stick it on the scale to verify the weight. However, I never seemed to have much luck doing that with the extruded powders that I've been using in some rifles. Charge weights varied too much around what I wanted. My procedure for those powders has been to throw a charge a little lighter than I want, place it on the scale and trickle the rest of the charge in with a manual trickler. I get good accuracy like that but it's time consuming. And I'm already pretty slow when loading!

I've been using a PACT electronic scale to weigh my powder charges for quite a while. It is just as accurate as my old RCBS beam scale, and it sure is faster and easier to use! The scale has an infrared communications port built into it, but I'd never tried to use it. I knew that there were some electronic powder dispensers around, but my impression was that they were very slow. Then I read about the new PACT "high speed" dispenser that worked with their digital scale using the infrared port. This unit has two speeds. It uses the high speed to dispense most of the charge and then switches to low speed to trickle in the last bit. Midway had the dispenser on sale at the time I started looking. Since I was getting ready to test some more hunting loads I bought one to see if it would speed up my loading process.

When you look into the bottom of the powder hopper on the PACT you'll see that it has two feeding tubes to get the powder to the scale pan. One is the high speed, high volume feed and the other is the "trickler". The key pad has the regular numeric keys plus keys for "ENTER", "RESET", "CALIBRATE" and "DISPENSE". There are four LED indicators for "Scale", "Calibrate", "Memory" and "Dispense". The powder hopper holds a pound of powder and has a baffle built in. The use and orientation of the baffle is important to proper operation.

Setting up the dispenser was a breeze. There are only three pages of instructions which I highly recommend that you READ! Part of these is how to activate the scale's infrared transmitter and establish communication with the dispenser. You have to place the scale under the dispenser to line up the infrared ports on both devices. The "Scale" LED will be on solid when the scale and dispenser are communicating. Make sure you have a pan on the scale before you push any buttons so you won't make a mess.

The dispenser must then be calibrated for the powder you are using. Apparently there are some "smarts" built into it that constantly adjust to optimize the feed rate. To calibrate you just fill the hopper with the powder you are using and hit the "CALIBRATE" button. One thing I always do, and did here, too, is to tap the hopper with something, a screw driver or wrench, to settle the powder a bit before I start trying to measure. The "Calibrate" LED will blink while the unit runs its routine. The dispenser runs around 150 grains of powder into the pan in spurts for about 2 minutes. The exact amount isn't important. The dispenser is learning what speed to spit out powder to get to the desired weight as fast as it can. When the calibration is finished the "Calibration" LED will be on solid.

Once the calibration is complete operation is equally easy. Simply punch in the charge weight you want using the numeric key pad and hit the "ENTER" key to store it. Don't forget to use the decimal point key! The "Memory" LED lights when you have a weight stored. When you are ready to throw a charge you just hit the "DISPENSE" key. The "Dispense" LED will start blinking and the dispenser spits out the requested amount of powder pretty quickly. If the charge comes up short you can press the "DISPENSE" key again to trickle a little more in. The time varies some between charges as the dispenser corrects itself on each cycle. I set the charge weight to 50.0 grains of H4831SC and tried ten cycles. The average time was 25.0 seconds with a high of 34.6 and a low of 16.3.

I loaded twenty .260 Remington cartridges to get used to using the PACT. I noticed that a few charges came up 0.1 grain short. The instructions say that the dispenser tries to never throw an overcharge. However, a couple of times it overshot by up to 0.3 grains. When that happened the next charge would dispense more slowly. It seemed to me that the tuning could be a little too tight, causing it to occasionally overshoot the corrections. I called PACT to ask about that and they said that that was just the way it worked. However, I knew that I wasn't talking to one of the "high tech" folks there. The dispenser comes with a certificate for a free software upgrade so I might get to use it for this.

To compare the new dispenser with my old method I loaded up some .260 Remington cartridges using H4831SC powder under a Hornady 140 grain SST bullet. The charge weight was around 45 grains. The PACT was set to give me the exact weight. The RCBS thrower was set to throw about 0.5 grain less than the desired charge, according to my usual practice, with the rest of the powder being trickled in by hand. I timed how long it took me to load ten cartridges by each method.

The cases for the comparison were prepped and ready for the powder and bullet. I threw a weighed charge and then seated a bullet before going to the next cartridge. I took my time, as you always should when loading. Using the RCBS and the manual trickler it took me 17.4 minutes to load ten cartridges. Using the dispenser I was able to seat a bullet while it measured the next charge so the time was 10.3 minutes, including one "re-throw" that went over weight. I had to use the "trickle" feature a couple of times to bring the charge up to full weight.

The PACT instructions mention that, for large powder charges, you can throw most of the charge with a manual measure and then use the PACT to finish it up. That method could speed up loading the really big cartridges.

Emptying and cleaning the PACT was a bit more difficult than with the RCBS. Even after you dump the powder back into its original container you need to shake any remaining powder out of the feed tubes. I pulled the powder hopper off to make sure that the tubes and baffle weren't holding any residual powder. Some compressed air might save some time here. For now I'm using a small paint brush with long bristles to make sure there is no powder left in the dispenser.

I found that I like the convenience of using the dispenser. I'll admit that the overshooting issue worries me some though. I think what I'll do for now is to set the dispenser to throw a charge 0.1 grain low then use the "DISPENSE" button to trickle in the last tenth when I need to. Being able to throw a charge in one case while seating a bullet in another sure is a time saver! Since the timed test I've loaded some other cartridges using both extruded and spherical powders and was very pleased with the PACT. I don't know if the dispenser will work with other brands of scales. If you don't have the electronic scale, PACT or one of its distributors sells a kit with both scale and dispenser included.
---
Posted by Pumpkinslinger on Monday, December 30, 2013 (16:52:52) (3989 reads)
comments? |
| Score: 0
Remington 700 CDL in .35 Whelen
Remington 700 CDL in .35 Whelen
by Mike Hines

In my continuing effort to plug perceived gaps in my gun collection (at least that's the excuse I tried on my wife) I had decided to get a "medium bore" hunting rifle. Obviously "medium bore" is a relative term but I use it as John "Pondoro" Taylor defines it in "African Rifles and Cartridges", that is "A rifle the caliber of which is not less than .318" nor greater than .375". (

See note below

.) Possible uses (maybe I should say hopeful!) include elk and bear hunting. A couple of obvious choices in this range of cartridges are the .375 H&H Magnum and .338 Winchester Magnum. But I wanted something a little different. I wasn't as interesting in earth-shattering energy as I was in just a bigger, heavier bullet at "standard" velocities. I started looking hard at the .338-06 and .35 Whelen. These cartridges would give me the bigger bullet I wanted without belting me out from under my hat with recoil. The .338-06 would pretty much have to be a custom job while there were a few commercial .35 Whelens around. The .338 caliber seemed to have a better variety of premium bullets available though. Decisions, decisions…

While at a gun show a couple years ago I saw a new Remington 700 CDL chambered in .35 Whelen. I liked the looks and feel of the rifle and, after wandering around deliberating for a while, I bought it for $600. A local gun shop sold me a Burris Fullfield 2 scope, 3-to-9X with the "Ballistic Plex" reticle. Hornady dies, as well as brass and bullets were ordered from Midway.

The Remington 700 hardly needs any description. It is one of the best known bolt action rifles around. The CDL, or Classic Deluxe, has a satin finished walnut stock with a black fore-end tip and grip cap. I very much prefer this stock finish to the shiny one seen on some Remington guns. The 24 inch barrel also has a satin finish. The barrel twist is 1 turn in 16". There is a two position safety, back is "SAFE" and forward is "FIRE". This rifle has Remington's new R3 recoil pad, designed to reduce felt recoil. Overall length is 44.5" and, with the scope mounted in Leupold rings, it weighs just less than 8 pounds.

The .35 Whelen cartridge is simply the .30-06 case necked up to accept .358" bullets. It was developed by James Howe in 1922 and named after Col. Townsend Whelen. The intent was to create a sort of "poor man's" .375 H&H Magnum, a classic African cartridge, for use on large American game. I've read a couple articles detailing its use in Africa too. Remington finally made it a commercial cartridge in 1988. Although the .35 Whelen performance falls short of matching that of the .375 H&H it is a step up from the .30-06 and is in the ball park with the .300 Winchester Magnum.

Rifle bullet weights in .358" start at 180 grains and go on up to 310 grains. When looking around before buying the rifle I had overlooked the premium bullets from Swift and Woodleigh so that concern was covered. One interesting aspect of the .35 Whelen is that you can use .357" handgun bullets to make plinking loads. The Speer #13 reloading manual lists loads using the 158 grain .357 bullets that produce around 2000 feet/sec. These could be used for practice or maybe varmints. However, the slow twist that makes this possible might prevent me from using the heavier bullets in this caliber. Manipulating the Greenhill formula for calculating twist I come up with a "suggested" bullet length of around 1.2". Velocities over 2000 ft/sec allow you to use a slightly slower twist. The Hornady 250 grain spire point bullets I have measure 1.26" long. Swift Bullets lists a 280 grain A-Frame as 1.345". One of these days I might give them a try.

For my first loads I chose the Hornady 200 grain jacketed spire point bullets to use for whitetails. After looking in several loading manuals I saw that the fastest load used Hodgdon BL-C(2) powder, which I had on hand. Federal 215 primers would light off my first test loads. As usual I started with cases that were resized full length and trimmed to length. The powder charges were kept below maximum loads from the manual.

I was wondering what the recoil would be like so, before sighting it in, I fired a few rounds from the rifle to get a feel for it. I immediately noticed two things. First, this 700 had a terribly heavy trigger. I later measured it at about 8.75 pounds. It broke cleanly but was way too heavy for practical use. Second, that R3 recoil pad really worked! Felt recoil was quite manageable; maybe even less than my .280, which has a thinner rubber recoil pad.

The scope had been bore sighted using the proper tools at the shop where I bought it. This put the point of impact about a foot low and foot right at 100 yards. (Remember that if you think that bore sighting is "good enough" for hunting.) As I zeroed the rifle I also used a Chrony chronograph to check the velocity of my load. After I got the rifle zeroed I fired one 3 shot group to try to check the accuracy. I didn't have high hopes for accuracy given the trigger situation.

I ended up chronographing eight rounds using the 200 grain bullets over BL-C(2). Actually I had chronoed more but I fat-fingered something on the printer and erased the other velocities. Anyway… The average velocity was 2638 fps with a standard deviation of 26.4 fps. Best of all, my last three shot group at 100 yards measured 0.8"! Considering the heavy trigger pull I was pretty pleased!

The ol' PointBlank software was put to use once again. I used it to calculate the recoil energy at 27 ftlbs and recoil velocity at 14.9 fps. For comparison a "standard" .30-06 load with a 150 grain bullet would have 19.9 ftlbs of recoil energy and a recoil velocity of 12.8 fps in the same weight rifle. A .375 H&H with a 300 grain bullet would be more like 50 ftlbs of energy and 20.2 fps velocity.

This particular .35 Whelen load generates 3090 ftlbs of muzzle energy. Remember that this load is below maximum and the max load would be closer to 3500 ftlbs. The .30-06 would have 2700 ftlbs of energy at the muzzle while the .375 H&H shows 4500 ftlbs at the muzzle.

If you compare book velocities with the same weight bullet, 200 grains, they look something like this: .30-06 – 2550 fps, .300 Win Mag – 2850 fps, .35 Whelen – 2800 fps.

All in all I'm pretty pleased with this addition to the family. It is well balanced and just feels good in my hands. It's a good looking rifle too. The R3 recoil pad sure works as advertised. The trigger has been replaced with one from Timney. The .35 Whelen cartridge has plenty of power and I was somewhat surprised by its accuracy. This rifle should get its turn in the woods this fall. Wonder if any of those Smokey Mountain elk could wander over this way…

Note: John Taylor was an African hunter and writer. He wrote about cartridges ranging from the .22 rim fires to the .600 Nitro Express. He defined cartridge classes as follows:
Large bore – A rifle the caliber of which is not less than .450".
Large Medium bore - A rifle the caliber of which is not less than .400" nor greater than .440".
Medium bore - A rifle the caliber of which is not less than .318" nor greater than .375".
Small bore - A rifle the caliber of which is less than .318".
Miniature – A rifle the muzzle energy of which is less than 1,500 foot pounds.
Magnum – A rifle the muzzle velocity of which is not less than 2,500 feet per second.

---
Posted by Pumpkinslinger on Monday, December 30, 2013 (16:52:41) (7506 reads)
comments? |
| Score: 0
Essential information for new handloaders!
Essential information for new handloaders!
by Mike Hines

I seem to see the same kind of question over and over again in the online forums that are about reloading your own ammunition. "I just started reloading for my .373 Wiffenpoofer rifle and need to know what load to use …" Every time I see it I cringe a little. I have one simple answer to all these questions; READ A MANUAL!! There is nothing wrong with asking for information on favorite loads or for suggestions for better loads but every handloader should have a hand loading manual with the basic information readily available on his bench. Every bullet and powder maker has this information available. Most experienced handloaders have a favorite manual or two but all of them contain valuable information.

My first suggestion to anyone wishing to start loading their own ammunition is to just pick a reloading manual and spend some time studying it. There are plenty of them out there and all have recommended powders and suggested starting loads for any number of cartridges. You just have to take the time to read the information. When Billy Bob Reloader on the internet says a load is safe that doesn't mean that it really is. Double check the load against what the bullet and powder manufacturers recommend. Trying to gain a few feet per second at the possible expense of safety just isn't worth it.

Over the years I've seen and heard several people say that they didn't need a book because someone had showed them all about loading their own cartridges. When I first started loading I had a "mentor" who was teaching me the ropes. I also bought a couple of books and read them on my own. I soon learned that my "mentor" was downright dangerous in his practices! He proved this by blowing up a cartridge and damaging the weapon. Luckily none of the three of us standing there was hurt by the pieces that went flying around. I've kept that case on my loading bench for over 30 years as a reminder to be careful.

If you looked on my loading bench you'd see that I keep a number of different reference books handy. Some are full blown manuals, others are little more than brochures. There are more, older manuals stashed on my bookshelves. My personal preference is to use the data from the manufacturer of the bullet I'm using for that particular load. I will also reference the manual from manufacturer of the powder I'm using. If there seems to be a difference I stick with the bullet manufacturer's recommended load.

The manuals that I seem to pull out most often are, in no particular order;
"Modern Reloading, Second Edition" by Richard Lee
Speer Reloading Manual #14
Hornady Handbook of Cartridge Reloading, Seventh Edition
Hodgdon's "Annual Manual"

I would also recommend "Handloader" magazine to everyone interested in making your own ammunition. And don't forget that there are many component manufacturers' websites which also contain reloading data

One of my favorite quotes is "Experience is learning from your mistakes. Wisdom is learning from the experiences of others!" An unfortunate fact of reloading is that gaining the initial experience on your own, without good reference material, could lead to damaged equipment or even severe injuries. Why risk that when there are so many good, proven sources of information already available?
---
Posted by Pumpkinslinger on Monday, December 30, 2013 (16:52:29) (2163 reads)
comments? |
| Score: 0
Reworking a Worn-out Remington Rolling Block, an Alternative Approach
My scout master presented me with a .43 Egyptian Remington Rolling Block back in '67. I had a 28-inch Numrich 45-70 barrel installed in 1979. It has no Remington markings on it and looks like it was made in Belgium under contract.

www.militaryrifles.com...ificio.htm

In its worn condition, the rollers had a slight amount of play when open but minimal play when the hammer was forward in the fired position. However, the gun did not function. I figure the gun had been shot until it wore so much that it wouldn't shoot any more. I had to replace the firing pin because it had worn too short, then the hammer spring because it couldn't hit the primer with enough force to set it off - it would barely leave a dent in the primer. With a new firing pin and main spring installed, I proceeded to the firing line a few months ago in my drawn out quest to bring this antique back to life. I used 40 grains of Varget, a smokeless powder I had on hand, with 405gr Laser Cast bullets to test it out. The Hodgdon loading data listed this recipe as less pressure than black powder which I didn't have. At the range, I wore my safety glasses and wrapped the action in Kevlar cloth for the first two shots. On the fourth shot I split a case. Inspection of the primers showed the first shot had backed the primer out 0.004", the 2nd shot 0.010", and the 3rd shot was out 0.015". The 4th shot had a flush primer but that was because the split case base was pushed against the breech block. I had used a light lubricant on the barrel and figured by the 4th shot the case had fully gripped the chamber exposing the wear in the action. I used a bullet to extract the forward part of the case that was stuck in the chamber. I tapped the bullet in just far enough to engage the rifling, then used a wooden rod to tap it back out from the breech. The broken case came with the bullet.





On closer inspection of the action, I could get an 0.018" feeler gauges between the breech block and barrel with a strong tugs backwards on the breech block. If I didn't pull hard on the breech block, I could fool myself into thinking there was only about a 0.004" gap. The hard pulls took up all the slack in the action. This slack amounts to excess headspace. I decided to take the rifle apart and mic every part and see if I could figure out where the slop was. Most of the slack was between the receiver to the pins and the pins to the rollers. The pins were 0.453, the holes in the receiver were 0.458 and the hammer and breech blocks were 0.460. These are the stack-up.

0.008 to 0.010 pins to breech/trigger blocks
0.010 on the breech pin to receiver
0.005 on the trigger pin to receiver





After some Internet searching I found a gunsmith in Idaho that machined part for antique guns. Ryan Roberts, Muzzleloader Builder Supply, had oversized pins on the shelf so I purchased 0.4600 and 0.4615 pins for a very reasonable price. I used an adjustable reamer to match the hammer, breech, receiver holes to the new pins.





The blocks were significantly harder to ream. The sides of the receiver cut very easily. Even though the pins were snug and had to be tapped in the receiver, I could feel the pins rotate slightly every so often. I lightly staked the pins on the right side of the receiver with a punch and they stayed put after that. Ensuring the pins stay fixed in the receiver is key to longevity of the action. The breech pin only took one stack but I wanted to make sure the hammer pin stayed put so staked it several times.





With the new pins installed almost all the slop in the pin interfaces was gone. I still had 0.005 of slack between the back of the breech block and the hammer when it moved forward. I test fired a couple of rounds. The group was bout 3 MOA and the primers were still moving aft out of the case pocket a consistent 0.007 upon firing. This was something I wanted to fix. A weld bead had been added to the back of the breech block in a prior repair to compensate for wear so I thought I could add some more metal and file/fit it to take of this slack. I found a local argon welder at a custom motorcycle shop to do it.





After having the weld added, I started to fit the breech block back into the action. Two issues became evident with this "repair" technique. Taking up the slack by adding metal to the back of the breech block tilts the block forward causing it to no longer be square with the receiver. It had a slight tilt to begin with and this course of action was only making the tilt more exaggerated. The breech block was touching the top of the case but the center primer area was visibly off the block. Also, with the breech block tilted farther forward, there was an interface issue with the striking portion of the hammer. It would no longer fit into the firing pin pocket so it could freely strike the firing pin. I came to the conclusion this technique was a dead-end.

Next, I measured what it would take for the breech block to be square with the barrel. The barrel would have to move aft 0.028" or the breech block forward the same amount. I determined this by measuring the action with the new pin installed and the breech block held perpendicular to the barrel, and with the breech block pressed up against the barrel and measuring the offset in the receiver to breech block pin holes.





Most shooters I talked with recommended I have a gunsmith move the barrel aft and recut the camber. In my particular gun, this would cause the barrel to project aft of the receiver. It also would not solve the interference problem I had when the breech rolls under the hammer to extract the case or load the weapon. Based on the wear observations of my rifle, I came up with a theory that the breech block and its pin progressively wears aft in the receiver over time and use, thus the ultimate solution would be to leave the barrel alone and move the block forward to be square with the barrel. A shooting buddy suggested an way to accomplish this. A new larger hole could be machined in the breech block with a 0.028" offset, press a bushing/sleeve in, and refitting the roller pin. I had access to a machine shop so I started seriously considering this option. I wanted to remove as little metal from the breech block as possible. The thinnest area of metal in the breech block is located on the front side of the now oversize hole to accommodate the new 0.460" pin. By doubling the required offset of 0.028", a new hole of 0.516" could be machine with its forward edge just touching the forward edge of the existing 0.460+ hole and minimizing the metal removed in the forward section of the breech block. This would allow a symmetrical 0.028" bushing to be inserted to get back to the hole for the roller pin. I made sure the new hole was offset horizontally as opposed to up or down the angle of the receiver because I didn't want to have the firing pin rise in its relationship with the primer. I also checked to ensure there was enough clearance in the aft lower section of the barrel to still allow the breech block to roll open.

Time to cut metal. With the help and guidance of a buddy, we used the new roller pin to position the breech block on the machine's turn table with the 0.028" offset and machined the new 0.516" hole. We made the bushing 0.0015" over-sized (0.5175") so there was an interference fit with the breech block. The internal dimension of the bushing was also undersized so we could fit it precisely to the new 0.460" roller pin. We should have also made a matching centering pin for the undersize hole to reposition the breech block back on the turn table to fit the pin because we were off about 0.002" from center when we bored out the hole. This turned out not to be critical because the interface with the barrel is well above the center of the pin reducing the affect of the error. BTW, the bushing was 4041 steel, the same harness as the oversize pins. I will this will be adequate for the reduced loads I am planning to shoot.





Now the fitting began. With the tilt forward eliminated, the aft part of the breech block was now lowered in its relationship to the hammer block. Thus, I had a significant amount of fitting to do. It turned out that all the new metal from the added weld had to be taken off. I slowly and patiently removed metal until the hammer just started to roll underneath. I would then use a carpenter's hammer to tap the rifle's hammer spur forward a little than aft to become free again. This would leave a mark on the bottom of the breech block and showed precisely where more metal had to be taken off.





I used a file and sometime a battery powered grinder with a small abrasion drum to remove the interference mark. I repeated this process until I could lightly tap the hammer block all the way into the firing pin well of the breech block. I took me about an hour to work the action to the point. I then dry fired the action until the hammer could freely come forward and strike the firing pin while leaving the action tight. With the breech block now square and closer to the brass case, I checked the firing pin to ensure it was not too long. To reduce the risk of piercing a primer I shortened the firing pin to provide 0.040" protrusion. This is the original large diameter firing pin, much fatter than today's firing pins, so make sure its tip is nice and round with no sharp edges or corners. I did a few firings with primers only just to make sure the firing pin work correctly. BTW, the firing pin was initially protruding 0.055" but, with the large diameter firing pin, it never crushed the primer more than about 0.030". Still, I shortened the pin to be safe.

There was one additional modification that was required before the rifle was fully functional again. The extractor was binding with the breech block during opening. As the breech block rotates aft to open the chamber and with the new roller pin hole offset aft, the breech block now rises slightly at the point of extractor engagement. I had to remove metal from the lower side of the extractor just behind its interface tab to accommodate the breech block. Looking at the picture more closely, it looks like I should have taken just a bit off the lower tab that engages the groove in the breech block.





The action was now very tight with excellent lock-up. It was so tight that Winchester Brass with a 0.063 rim base would fit. Starline brass with its 0.065 rim base would not. I wanted to use the Starline brass because it has thicker walls. So, I laid a file flat on the work bench and removed 0.002" off the bottom of 10 cases. This task only took about 15 minutes to accomplish. The stamp marks still show on the bottom of the case and I will save the other cases for when the action has worn in a few thousandths. With the action a new, I loaded the cases and took the rifle to the range. Below is my target at 50 yard - 1 MOA, a dramatic improvement! The load was 41gr H4895 with 405 Oregon Trails Laser Cast Bullet resulting in 1435 fps muzzle velocity. I switched to H4895 powder because Varget left unburnt powder grains in the barrel. H4895 burns slightly faster and at a slightly lower pressure, e.g., approximately 15,000 psi chamber pressure compared to 17,000 with black powder. BTW, Reloading is a breeze. Press out the old primer, insert a new, fill with powder, and insert bullet. Don't even need to neck-size.




You can see that I had *****d a scout scope. I needed to do this so I was sure of my point of aim. My eyes are too old to shoot open buckhorn sights well enough to evaluate a load's accuracy potential. There was also one other mod. I installed an aftermarket trigger spring kit from G. S. WOMACK. The wire spring reduced my trigger pull from well over 10 pounds down to approximately 4 pounds. This is well worth the $15 spent. I also got some rolling block specific screws from WOMACK to replace ones that were too worn. One final step I took with the action. I used Action-Magic (dry moly lube) from Brownell's on every part of the action that touches another part, e.g., the pins, inside the breech and hammer blocks, firing pin, trigger pin, spring to roller interfaces, and the breech block to hammer lock-up surfaces.

Now that I know my rolling block is a worth shooter, I have motivation to fit and finish the Schnabble-style fore stock that I got from Dave Crossno Gun Stocks. I'm ready to work on maturing my loads and using this rolling block for another hundred years.






hodgdon.com/

Ryan Roberts
Muzzleloader Builder Supply
PO Box 848
Aberdeen ID 83210
muzzleloaderbuilderssupply.com
(208) 397-3008 or (877) 397-3008

G. S. WOMACK
5100 Garden Valley Rd
Garden Valley, CA 95633
530-333-2233
kgwebay@wildblue.net
www.rollingblockparts.com/no1.html

Dave Crossno Gun Stocks
23380 N. Anderson Road
Arcadia, Oklahoma 73007
Tel: (405) 396-8786
DIBBLEGUNS@juno.com
www.angelfire.com/ok5/...snostocks/

www.brownells.com/

---
Posted by slimjim on Wednesday, September 04, 2013 (15:24:21) (7892 reads)
comments? |
| Score: 5
Skinning and gutting rabbits - My way
http://youtu.be/lfDyQfkU7cQ
A quick movie (about 2 minutes) on how I prepare rabbits I harvested.

Steps:

1. cut off the head
2. cut off the legs
3. score a small cut roughly in the middle of the back
4. peel skin from body
5. flip body belly up
6. score the belly flesh (no need to cut through)
7. make a small puncture on the belly enough for your finger.
8. with finger, open the belly on the scored line (step 6)
9. flick out the innards
10. open the chest cavity and remove lungs
11. open the pelvis and remove anus and bung.

All above should be do able within about 45 to 60 seconds once you get the hang of it.

Happy hunting.
---
Posted by gelandangan on Wednesday, June 12, 2013 (16:15:07) (1884 reads)
comments? |
| Score: 2
Making a Bullet Trap to Test Terminal Performance
A Better Bullet "Mouse" Trap:

I decided I needed to build a bullet trap to test terminal performance as part of my decision making process for hunting bullet selection. I was trying to decide which new .223 bullets might be a capable hunting bullet for small deer, the Barnes 62gr TTSX or the Hornady 70gr GMX (Hunting with the .223). I first studied how to make blocks of ballistic gelatin, the industry standard for testing bullet terminal performance. Ballistic gelatin is a testing medium that scientifically correlates to swine muscle tissue. However, the process of making the gelatin and using it is complicated. Water has to be heated to make the gelatin and then the mixture has to be refrigerated. The gelatin is also supposed to be at a specific temperature for valid test results, 39F or 50F depending on its composition. I needed something a bit easier to work with and one that didn't make a mess. Since body tissue is made up of mostly water, I rigged up a bullet trap that used a jug of water sitting in front of a box of phone books and magazines as you can see in the first picture.




The water jug sets up the hydraulic shock that makes the bullet open up and mushroom. The paper barrier behind it slows the bullet down and captures it. The depth of the box of phone books and magazines depends on the energy of your bullet, e.g., you would expect a .300 Win Mag is going to penetrate deeper into the paper than a .223 Rem. The set-up shown worked well for a .270 Win. Here is what the bullet trap looks like after the shot.




Not much change. It is easy to separate the phone books or magazines to find the bullet. The bullets I shot from a .223 with a 24-inch barrel were trapped in the 1st or 2nd phone book. The .270 Win bullets went well into the magazine section. You can do multiple shots into the trap. I've done up to 3 without issue and, if your shot placement is good enough to reliably vary your impact point, you should be able to do several more. You just need a new jug of water for each shot. For a water container, I reused gallon washer fluid jugs. Reusing containers from antifreeze, milk, or large mouthwash bottles will work also. I found you only need a 2- to 3-inch water column depth to affect bullet expansion. Use the same type of container from test to test if you want to compare different bullets relative performance because I found the reaction of the jug itself provides clues to bullet effectiveness.




So far, I've done all my testing at 100 yards. I'm planning a future range session where I will test my .270 hunting load out to 500 yards to see how well they are mushrooming, but I need to collect some more magazines and phone books first. I want to determine the range where I can still obtain a decent sized wound cavity. Below is my experience using this bullet trap configuration. As you will see, I learned more about each bullet's terminal performance than I expected. I also was able to correlate the .270 130gr GMX bullet performance to results from my elk hunt this past fall. Maybe you will find this process easy enough to use it with your favorite hunting load. You can add your results to the forum topic I set-up to discuss the bullet trap, Making a Bullet Trap to Test Terminal Performance.




Session 1:

I did my first terminal tests at 100 yards with the .223 Barnes 62gr TTSX, Hornady 70gr GMX, and the .270 130gr GMX. The 62gr TTSX was first, it went about 1000 pages into the first phone book. Its shock, however, tore the pages into the second phone book, about 700 additional pages. One leaf (4.3 grains) broke off the expanded bullet and was sitting with the core when I extracted the bullet from the trap.

When the 70gr GMX was fired through a fresh gallon jug, it penetrated the first phone book and about 300 pages into the second phone book (600 pages further than the 62gr TTSX). It's shock tore about 500 additional pages.

I was initially impressed but thought I'd hold judgment until I shot the .270 Win. The 130gr GMX obliterated the water jug, drilled through the 3 full-size phone books I had plus 4 additional Guns & Ammo magazines. The shock tore through 4 additional magazines. There was no comparison in energy and penetration between the .223 and .270. I expected the .270 to be more powerful but not this much.



Follow-on analysis:

Below is a picture of the three recovered bullets along with their calculated velocities and energy levels at the point of impact. Muzzle velocity was measured with a chronograph. Note, all the bullets retained 100% of their weight (if you include the one pedal which still resided with the 62gr TTSX when I separated it out of the phone book).




I was surprised that the 70gr GMX penetrated significantly farther that the 62gr TTSX. Then I started noticing the little things. The 70gr GMX did not have enough velocity on impact to fully mushroom (notice the hollow-point cavity still is present). I expect the GMX needs about 2000 fps of velocity to begin opening up, which is typical of monolithic bullets. Looks like it needs significantly more than 2500 fps to fully open. The GMX is a 95% copper / 5% zinc bullet which is harder than Barnes' 100% copper bullets. (Note, the new copper/zinc MonoFlex bullets from Hornady, their new lever-action tipped bullets, are supposed to only need 1600 fps to begin to open up due to the softer flexi-tip.) I also noticed that the water jug the 70gr GMX penetrated only had one vertical rip in the plastic on the rear side. The water jug the 62gr penetrated had 3 vertical rips, front, rear, and side plus the jug lost its top. It appeared to me that the 62gr TTSX had more initial shock because it opened faster and expanded more than the 70gr GMX leaving the 70gr GMX with more energy remaining to penetrate with a slightly smaller diameter. Based on this, I think the 62gr TTSX would be better for deer and the 70gr GMX on the hogs where I am likely to need more penetration.


Because the .270 Win showed significant more performance, I plotted out their respective energy profiles for comparison. The bullet capture test left an impression on me as to just how much more powerful the .270 Win was than the .223 Rem. Not only did it penetrate deeper, it left a gapping hole in the phone books and paper dust everywhere. The .223 bullets just tore their way through. I graphed the energy levels of all three bullets out to 500 yards. Yes, if the conditions were right, I would use my .270 Win to harvest a deer at 500 yards. My .270 with the GMX bullet (0.453 BC) still had more energy at 500 yards than either .223 bullet did at the muzzle. The .270 had the same energy at 700 yards as the .223 bullets did at 100 yards.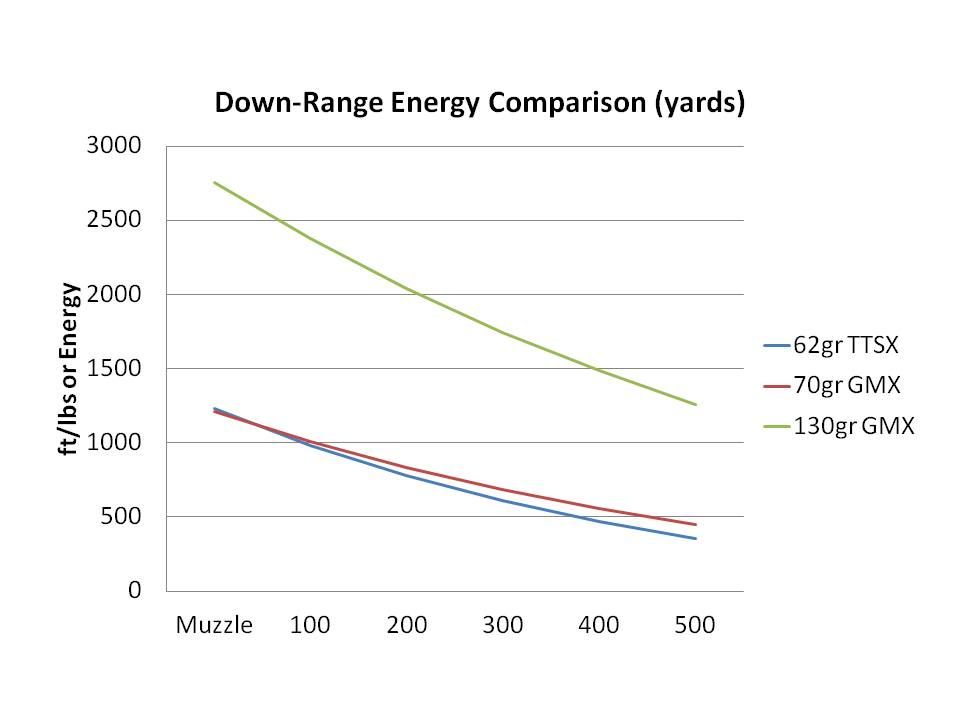 Session 2:

At the next trip to the range, I used the bullet trap to capture a Barnes 110gr TTSX and a Berger 150gr VLD. I wanted to see what the terminal performance difference was going to be between a bullet that was designed for expansion with 100% weight retention (TTSX) and a bullet designed to penetrate a couple of inches then fragment (VLD). From the picture below, you can see the surprise that awaited me. The TTSX performed as expected. It mushroomed to twice its size and bored through 3 phone books and 7 magazines, similar to the 130gr GMX shown from the 1st session (note the 110gr TTSX at 100 yards has more energy due to its still higher velocity). The VLD, however, piled up as a flatted slug 15 magazines deep. Nice penetration but no fragmentation and in a strange state with the hollow-point tip still intact as you can see from the picture below.






Follow-on analysis:

Investigation of the water container and the first phone box, revealed clues that the VLD bullet did not expand on impact but yawed and was turned 90 degrees passing through the first phone book. The jug showed the bullet impacted on center-line and penetrated through the full diameter of the water jug. Thus, it wasn't as an off-center hit that could have caused the bullet to yaw and not expand. BTW, I believe there is an advantage when using a rectangular jug as the depth of water penetration is consistent if you impact is slightly off center. The exit had an elongated tear as shown in the picture below. You can also see the elongated penetration through the first phone book compared to the round TTSX bullet penetration. The VLD bullet actually went through the remaining phone books and magazines backwards until the copper jacket crumbled and the bullet expanded to a stop. I was not able to find the 6 grains of missing VLD bullet weight as a fragment.




The reaction of the water jug also indicated that the 62gr TTSX shot during the first session had more impact shock than the 150gr VLD in the second session. The 62gr TTSX had more tears in the jug plus blew the plastic cap off the top. It is possible that using plain water as the initial entry medium in the bullet trap is not appropriate for a legacy lead-core bullet, however, I don't believe that to be the case. If I wasn't a fan of monolithic bullets before (which I was), I certainly am now.

The terminal performance of monolithic .270 Hornady 130gr GMX in the bullet trap also matched my hunting experience with elk this fall. I shot three 130gr GMX bullets through the chest cavities two cow elk at 225 yards up the side of a mountain. In the picture below, you can see that the entry wound into the chest cavity was the same diameter as the exit wound indicating rapid GMX expansion (both elk had similar terminal affects). The reason I shot at two elk is my hunting partner dropped my first elk with a neck shot using a 110gr TTSX as it stepped out from behind a tree a couple of seconds after I had shot. The pine tree blocked both of us from seeing the elk at the time of each other's shot. The full story is covered in this post, New Mexico Elk Hunt.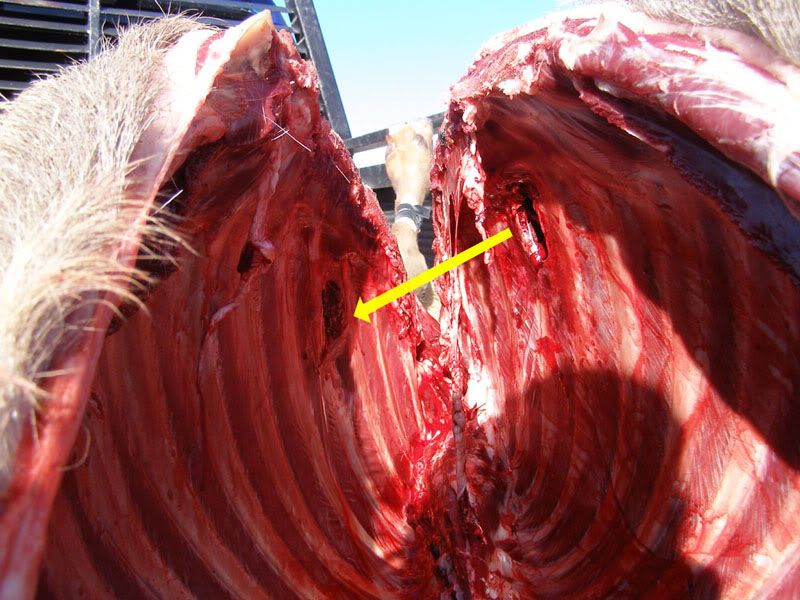 I'll add more to the forum topic as I develop the bullet trap further. Have fun exploring the performance of you hunting bullets!



---
Posted by slimjim on Friday, June 01, 2012 (04:41:31) (10354 reads)
comments? |
| Score: 5
Primitive Hunting
Deer hunting in Pennsylvania for my family was sometimes a hit and miss opportunity. We seemed to always purchase our hunting license and doe permits but would sometimes not always have the opportunity to use them.

I remember in the early 1980s when my brother and I decided to go doe hunting the day before the season opened. Because of other commitments we had not been hunting deer at all that year. So we met early the next morning and headed for the woods.

My brother would grab the lever action 99 Savage that belonged to my father. My father was not hunting with us that day so my brother would use his rifle. As we rushed out the door he would grab five 300 Savage cartridges for the gun.

We would be hunting on several thousand acres of state game lands that would be joined by several thousand private acres on the backside. We had hunted here many times before and were quite familiar with the land, or so we thought. We would split up and hunt on separate ends of the game lands. Because it was damp and rainy there were not many hunters in the woods.

It was one of those damp cold mornings and when my brother tried to aim at a young doe my father's Weaver KV scope would be totally fogged up. He would miss with the first shot and decided to use the Weaver flip mounts and use the open sites. Only problem with this was the open sites had never been sighted in. The second shot with the open sites would hit the deer that resulted in a gut shot. He now had two cartridges left.

He would continue trailing the deer and would eventually get another shot. He would miss with that shot and would eventually miss with his final-round. He now had a wounded deer and no shells left. The deer was still fairly close and he decided if he could get close enough he could finish it off another way. He would now be into primitive hunting.

After considerable time and effort he would pin the deer between a couple of large rocks and finish it off with a big stick. We did not believe in allowing a wounded animal to be left in the woods. We did what we had to do.

When he went about the business of gutting the deer he realized he had forgot to bring a knife. But because the deer was gut shot he was able to use a pen knife on his keychain. You sometimes do have to improvise. He was now ready to drag the deer out of the woods but had also forgotten to bring a rope. He would end up using his scarf.

Now because of chasing that deer all over the backside of the state game lands he would now be confused as to where he was. Although we had hunted here many times it is still confusing when you get into big woods. Even experienced hunters can get lost in large tracts of timber.

He would ultimately drag the deer in the wrong direction and end up at a hunting camp a couple of miles from where he would take that deer. It was one of those hunting experiences that we will always remember in our family.

Bill

www.Firearmsthinker.com
---
Posted by LETITFLY on Thursday, May 31, 2012 (14:24:08) (2042 reads)
comments? |
| Score: 1
Chrony Remote Switch
I have used the Chrony brand of chronometers for quite a few years but have never used the option to by the printer they offered as I thought it is wiser to spend
the money on powder and primers + bullets. So after a little investigating around I found out that the port for the printer on the chrony can be used for other
purposes. So for under $15.00 you can do this.

Remote control
The simple remote for the F1 and Alpha allows you to step through some statistics and the shot memory using the F1's built in display. This is otherwise only available using the Function button on the Ballistic printer.


Parts list:
3.5 mm Stereo jack (1/8th")
Pushbutton switch
2 core cable for spst , 3 core for 2 switches. 2 switches see below. If you have a remote head, than its the same length as the head.
Small box


How to:
Mount the switch(s) in the box, or may be self enclosed
Solder the cable across the two connectors.
Solder the other end to the Sleeve and Ring of the audio plug.

Diagram 1

Completed remote.

If you build this keep the box you mount the switch in fairly small then it fits nicely inside the chrony
Usage.
(Taken from the manual)
The push button on the Remote Control is the equivalent of the FU button (or Function button) on the Chrony Printer.
The F-1 Chrony will provide you with summary data such as Hi, Lo, Average velocities and the total number of shots fire. Plus: Extreme Spread, Standard Deviation as well as numbered shots and retrieval of individual shot velocities.
1. Deleting Single Shot:
Press & release the button repeatedly until the desired shot number is displayed (NOT the velocity). Press & hold the button until display flashes. Release button immediately. The Chrony will automatically adjust the statistics.
2. Starting a new String:
Turn your Chrony OFF and the ON again. Or, (if you don't want to get up) press & release the FU button until -Hi- is displayed. Hold the button in until the display changes to -CL-, then release the button. -Clr- is now displayed. Press & release the button until the display changes to -CLS-, then press & hold button in until the display flashes. Release button immediately.
3. Retrieve Information:
Anytime you wish, you may view the data you have produced. To do this, simply press the button, identify the information you are about to receive, release button and read the information. Repeat this process for each piece if information shown below.

Code:
What you see on press the button What it means is what you see on release
-Sn-
String number Will always be #1 with the F-1 Chrony;
-Lo-
Lowest velocity, velocity of the slowest shot
-Hi-
Highest velocity, velocity of the fastest shot
-Av-
Average velocity, Average velocity of all shots
-ES-
Extreme Spread, Hi velocity minus Lo velocity
-Sd-
Standard Deviation, Standard deviation of string of shots
-To-
Total number of shots recorded since Chrony was turned on. The number of shots fired.
-10-
# of last shot fired, velocity of 10th shot
-9-
# of next to last shot fired, velocity of 9th shot etc., etc., repeat until all the shots have been shown, then -[ ]- appears. This means the end of the data and, that you are ready to shoot again. If you press the button again, you start the viewing cycle over again. Simply pressing and releasing the button takes you from one piece of data to the next.. If you wish at any time during the viewing process to return to the working mode, stop pressing the button and wait 15 seconds. It returns to the working mode by itself. Sometimes, if you hold the button down for more than two seconds at a time, the unit will go into a sub-menu. Wait 15 seconds, it will return to normal by itself. When you think that you may have done something wrong, take your hands off, and it will go back to normal by itself.

Diagram 2

Diagram 3
---
Posted by Ominivision1 on Tuesday, February 28, 2012 (21:20:09) (6532 reads)
comments? |
| Score: 5
An intro to physics for shooters.
There is always a great deal of chatter among hunters, as well as shooters primarily interested in defense, about "energy" and "momentum" and how they relate to "knock down power", etc. I find, however, that the terms used are often misunderstood. Having been involved in so many of these discussions I thought I'd offer some definitions and examples of what these terms mean with regard to terminal ballistics, that is, what happens when a bullet hits a critter or other target.

Before I even get started I want to recommend an excellent book every serious shooter ought to have. "Understanding Firearm Ballistics" by Robert A. Rinker should be required reading for anyone who wants to really know how internal, external and terminal ballistics works. The book offers relatively simple explanations of the nuts and bolts of ballistics and also includes the formulas to go deeper into it if you want to. I don't know of any better reference for those of us who want to really understand ballistics.

The first thing we need to do is define a few of the terms that get used so often. I'll have a list of my references at the end of this article. Forgive me for using "English" units instead of metric units but I'm just used to them!

Mass - Mass is the amount of matter that makes up an object. The unit used for this is the "slug". It isn't the same thing as weight. If an object is in space it has almost no weight but still has the same mass as on earth. An object's mass can be calculated by dividing its weight in pounds by the acceleration due to gravity, which is 32.12 ft/sec/sec. Since we used "grains" to measure bullet weight we also have to convert grains to pounds before dividing by gravity. There are 7000 grains in a pound. For example: a 150 grain bullet would weigh 150/7000 = 0.02143 pounds. Its mass would be 0.2143/32.12 = 0.000667 slugs.

Velocity - Velocity is simply how fast our object is going. In shooting we usually measure velocity in feet per second (ft/sec).

Momentum - This is the "push" you get from a bullet leaving the gun and also hitting its target. Momentum is calculated by multiplying an object's mass by its velocity. When people are talking about an "equal and opposite reaction" in shooting this is what they mean. The bullet and propellant gases go one way and the rifle goes the other way. The unit used is the slug-foot/sec. A 150 grain bullet going 2900 ft/sec has a momentum of 1.935 slug-ft/sec.

Energy - Energy is the ability to do work. In shooting we are talking about "kinetic energy", that is, the energy of a moving object. The unit we use for energy is the "foot-pound". To calculate an object's kinetic energy you have to know its mass and its velocity. The formula for kinetic energy: KE = 1/2 x mass x velocity x velocity. A commonly used method to calculate energy of a bullet is; bullet weight x velocity x velocity / 450380. The constant of 450380 takes care of the conversion from grains to slugs. Our 150 grain bullet going 2900 ft/sec has an energy of 2801 foot-pounds.

So, what's all this stuff mean to us shooters? Let's look at what momentum and energy actually do for us, and to the targets. Keep in mind that there are a lot of variables that will muddy the water here.

As mentioned above, momentum is the "push" the moving bullet gives to both the rifle and the target. When the bullet leaves the muzzle the "equal and opposite reaction" is pushing the gun back against us. That's recoil. When we calculate recoil we also have to take into account the weight and velocity of the powder gases. The velocity of the gas is usually estimated as 1.5 times the velocity of the bullet. If we take that 150 grain bullet at 2900 ft/sec, along with a 50 grain powder charge exiting the muzzle at around 4350 ft/sec, and fire it in an 8 pound rifle we'll have the rifle coming back at us at about 12 ft/sec. But, if we are holding the rifle correctly, you also have to include our mass in the calculation. A 180 pound man firing that rifle would be given a backward velocity of about 0.5 ft/sec. Now for some of those variables. Our muscles aren't rock hard (as much as we'd like to believe they are!) so they soak up part of that recoil. So do any recoils pads. The stock material and design can make a difference too. The point to take away here is that the recoil isn't going to knock us into the next county, even if it does smart some.

Now, how does the momentum affect the target? In every single case the bullet will hit the target with less momentum than the gun hits the shooter. Remember that part of the gun's recoil comes from the propellant gases and those don't make it to the target. If you're shooting a steel plate like a metallic silhouette ram, which weighs around 50 pounds, you can give the plate a velocity of 1.24 ft/sec. That's enough momentum to tip it over, if the base isn't too wide. Since the bullet doesn't go through the plate it transfers all of its momentum to the plate. You might even get a little extra push if the bullet spatters back toward the shooter.

If you are shooting a 150 pound deer (or bad guy), and the bullet doesn't go all the way through, you'll again transfer all of the momentum to the target. In this case the velocity you'll give the deer is a little over 0.4 ft/sec. If the bullet passes through the target the momentum would be even less. We've all heard stories of deer being knocked down, flipped over, etc. when struck by a bullet but those incidents are the result of the reaction the animal made to being struck, not the momentum itself. It's like a person reacting to a bee sting. The momentum of the sting doesn't cause all those contortions and gymnastics, the person's reaction to the sting does. The big variable here is whether the bullet stays in the critter or passes all the way through. The take away, however, is that there really isn't any such thing as "knock down power" except maybe on very small critters.

How about this energy thing? As mentioned above, energy is the ability to do work. In the case of a moving bullet the energy gets used up on several ways. Initially some of the available energy is used up by pushing through the air on the way to the target. More is used creating heat and noise. On impact energy is used by making a hole in the target and deforming the bullet. The big variables to remember here are the bullet's construction and the target's construction. When you start comparing loads using their energy levels you need to make sure that you're comparing apples to apples. Let me offer a couple of examples to illustrate my point.

If I take identical 150 grain .30 caliber spire point bullets and load one in a .30-30 and the other in a .30-06 I'm going to get somewhat different results when the bullet hits the target. The .30-30 will start the bullet off at around 2200 ft/sec and at 100 yards will have an energy of 1300 foot-pounds. The .30-06 will start the same bullet at 2900 ft/sec and at 100 yards will have an energy of 2317 foot-pounds. With that extra energy the .30-06 will do more tissue damage and also deform the bullet more.

What if we took two bullets of the same weight but very different construction and loaded them so that they would strike the target with exactly the same energy? Let's say that I load a very frangible bullet, like a Barnes "Varmint Grenade" in one case and a monolithic bullet, like a Barnes TSX, in another. In this case the frangible bullet would come apart on impact, creating a shallow wound. The monolithic bullet would stay together and keep penetrating the target. If we're talking about a small critter this doesn't make much difference but if we are talking about a deer-sized critter it could easily mean the difference between a lost animal and venison steaks on the grill.

The point to all this is that neither momentum nor energy are magic numbers. Momentum won't knock big game over and energy alone won't cause humane kills. When you start making comparisons of cartridges you also must keep in mind the bullet construction. Also keep in mind that there are a number of other variables that will affect the terminal performance of the loads. The biggest variable of all while hunting (and defensive shooting) is shot placement, and that takes practice with the gun, not the calculator.

References:
"Understanding Firearm Ballistics" by Robert A Rinker
"Applied Physics" by Paul E. Tippens
"Principles of Physics" by Frederick Bueche
---
Posted by Pumpkinslinger on Friday, September 16, 2011 (21:08:43) (2500 reads)
comments? |
| Score: 0
PRIMERS AND PRESSURE
PRIMERS AND PRESSURE



by James Calhoon
(First Printed in Varmint Hunter Magazine, October, 1995)

In the course of talking to many shooters, it has become clear to me that the manufacturers of primers have done a less than adequate job of educating reloaders on the application of their primers. Everybody seems to realize that some primers are "hotter" than others and some seem to shoot better for them than others, but few reloaders know that primers have different pressure tolerances.

I ran into this problem myself when loading a 223 to the maximum. The primer I was using was piercing before the case began expanding at the head or reaching maximum pressure. How do you check maximum pressure without a laboratory pressure gun, you ask? To check maximum pressure on a given powder / bullet combination, measure the rim of the cartridge (at a specific point each time of the measurement) before and after firing. Cases don
---
Posted by Vince on Sunday, March 06, 2011 (18:53:46) (2822 reads)
comments? |
| Score: 1
Essential information for new handloaders!
by Mike Hines

I seem to see the same kind of question over and over again in the online forums that are about reloading your own ammunition.
---
Posted by Pumpkinslinger on Friday, March 26, 2010 (18:48:57) (2649 reads)
comments? |
| Score: 5
who's hunting who ?
Two that got way, one due to their diligence one due to nerves.

We were hunting caribou in Alaska southwest of Bethel. The river road was very bust that morning with shoppers and hunters all traveling before the sun was above the horizon. Because of our geographic position on the planet the sun comes up more in the north than the east. Traveling down river heading south the sun came up over my right shoulder. About 40 miles outside of town we saw one caribou about 1000 yards out. Caribou usually travel in groups. Not wanting to drop the dime as it were we waited until the other hunters kept moving. ( knowing there had to be other caribou there )

We waited and waited but only one caribou was to be seen. Planning our stalk the wind was in our favor. We traveled about a mile ahead and layed in wait for the "unsuspecting" prey to walk in to my sights. Plan A did not work. Plan B was to approach using the frozen sloughs, and staying out of sight. It was during this phase we notices all the wolf tracks. A lone caribou on the tundra with all there wolf tracks he had to be one very cautious critter. Either by sent or motion the jig was up. Time for plan C. Get back to the snow-go travel to the east a long way and loop around behind him. 10 miles and we started to head back north. Just off a big lake we stop to glass for caribou and see something small coming across the ice behind us. I'm thinking what is following us. Way to small to be a bear?

Forgetting all about the caribou we watch and wait. The lopping gait is not familiar it doesn't move left or right just straight ahead coming toward us. The wind is out of the east, and beasty is coming from the south. At what must be 100 yards we recognize what it is a real live wolverine. Following us ! I didn't want to shoot it. I suppose I could have I just didn't want to. So it comes closer. Finally we let it know where we were by moving. Nothing, no reaction what so ever! The wolverine changed direction somewhat but gave no indication it cared or was concerned we were there. After passing us we watched with amazement as it went into a willow thicket. Being curious we followed up until the snow got to knee level. Wolverine tracks were everywhere. Mr. or Mrs. wolverine had themselves a den in that mess.

So there it was in one day, two critters no shooting. One so scared it was darn near paranoid, the other so darn confident it lead us to it's home.

The yupiks said the wolverine was following us looking for a gut pile. Knowing we were "gusicks" it had no fear of us.

It got me to thinking who was hunting who?


Longwalker
---
Posted by longwalker on Wednesday, February 24, 2010 (18:29:30) (4262 reads)
comments? |
| Score: 0
Bullet Drop Compensation with Duplex Reticles

[size=14]
If this buck was 420 yards away, could you take this shot with confidence? This article describes how a hunter can use a duplex reticle and a variable power scope to compensate for bullet trajectory at longer ranges, or commonly referred to as bullet drop compensation (BDC). I was motivated to start this project when I began looking for a scope that provided BDC capability to mount on my newly acquired .270 Winchester. I looked at scopes from Burris, Cabella
---
Posted by slimjim on Wednesday, September 09, 2009 (15:42:59) (4594 reads)
comments? |
| Score: 4.33
Bullet Drop Compensation with Duplex Reticles

[size=14]
If this buck was 420 yards away, could you take this shot with confidence? This article describes how a hunter can use a duplex reticle and a variable power scope to compensate for bullet trajectory at longer ranges, or commonly referred to as bullet drop compensation (BDC). I was motivated to start this project when I began looking for a scope that provided BDC capability to mount on my newly acquired .270 Winchester. I looked at scopes from Burris, Cabella
---
Posted by slimjim on Wednesday, September 09, 2009 (15:41:05) (13961 reads)
comments? |
| Score: 5
Scopes with BDC Reticles for Centerfire Rifles
[size=14]
In the process of researching a new scope selection, I investigated the bullet drop compensation (BDC) reticles I found in scopes that I could afford to purchase. I saw no clear choice for my application. Each manufacturer
---
Posted by slimjim on Thursday, September 03, 2009 (18:53:07) (13296 reads)
comments? |
| Score: 3.8
Ruger #1 Accuracy
Ruger #1 Accuracy
by Ed Harmon

First a notification: Ruger takes the position that any modification to their guns voids their warranty. They also consider hand loads a no-no. If you return a gun for work that has been modified they may just return it without work being performed and charge you shipping, so be aware and consider the potential consequences before you modify your Ruger firearm.

Forearm

The #1 and the #3 Rifles, upon examination, are obviously designed to have the forearm separated from the barrel otherwise the forearm would be screwed to the barrel, like a Martini or Martini Cadet. The two actions are the same without the levers and both will take the same barrels. Why are the barrels not free floated from contact with the wood of the forearm at the factory? Forget the hype, it is purely economic. To get the correct clearance under the barrel and along each side of the barrel, takes time and time is money in manufacturing.

Ok, we start by removing the forearm from the rifle. You can, if you wish, try the O ring trick by buying a couple of O rings at the hardware store to fit the shank of the forend screw. Before any modification, put one O ring at a time between the hangar and the wood. This sometimes will work. Otherwise we continue.

If you are familiar with glass bedding a rifle to start with, you relieve the wood to provide an even line down both sides of the barrel; a barrel channel rasp helps to make this job quick and easy. If you have not done a glass bed for a barrel channel before, put the forearm back in place, run a pencil down the wood, alongside the barrel and cut the wood back to the pencil line using a barrel channel rasp. Go slow; it is difficult to stick wood back on. Use a fine cut flat wood rasp or a course flat steel file to straighten the lines if needed. Then use a sanding block to finish. You will need one layer of Duct Tape on each side for clearance. Stick a layer of duct tape on the barrel lengthwise and when the forearm fits back on the barrel just a bit snugly, you are about right.

Once you get the sides cut you can start on the bottom, where the hanger makes contact. With an oil burner, soot up the hangar and barrel, pressing the forearm into place. With the barrel channel rasp remove all marks in the barrel channel. Then go back to the hanger contact area and with a motor tool and small carbide router bit, remove the marks or the contact points made by the hanger. You only need to rough up three points because the will need to be extended or built up in any case.

In the attached photos an arrow points to the three places that require glass. All you need do is rough the surface of the wood so the glass will stick, without peeling or flaking off. Put two layers of duct tape only along the bottom of the barrel then coat the metal and the tape with Johnson
---
Posted by SwampFox on Thursday, August 27, 2009 (17:45:38) (6031 reads)
comments? |
| Score: 4.66
Pistol Recoil Spring Related Ejection Problem - By Wil Schuemann
There are two philosophies regarding recoil springs.

The first has to do with physics and reliability. If the recoil spring is too strong the ejected cases will be thrown forward. If the recoil spring is too light the ejected cases will be thrown aft. When the recoil spring is correct the cases will be ejected to the side of the gun. This gives maximum ejection reliability. It also gives maximum feeding reliability. If the recoil spring is too light the slide goes fully aft, but the spring isn
---
Posted by Vince on Friday, March 20, 2009 (18:47:32) (3829 reads)
comments? |
| Score: 0
Widow Maker
Widow Maker

Ed Harmon

Whitetail hunting in New Hampshire was a ritual for me. I would get together with my buddies from High School and we would all plan our first day of vacation to coincide with the first day of deer season. Bob had an uncle who owned a three-bedroom house on a lake in the western part of the state. We called the house on the lake
---
Posted by SwampFox on Thursday, December 04, 2008 (16:49:12) (3769 reads)
comments? |
| Score: 5
Civil War style paper cartridges
Paper cartridges for muzzle loaders
When I started doing Civil War reenactments in 1981 the first thing I learned was to make paper cartridges for my reproduction 1853 Enfield. Over time I experimented some and found a method that has worked well for me.
---
Posted by Pumpkinslinger on Friday, November 21, 2008 (16:26:10) (5311 reads)
comments? |
| Score: 5
Building The Swedish Mauser Sporter - Photos
Ed Harmon

I have tried to restore the photos to the original article, after the host site killed the photo album. Editing the original article has proven to be a problem so here is a supplemental article with the location of the photos, if they do not come up by themselves, you can copy and past to your browser.

Model 96 Swede Right Side of Action Close

These are the modifications to the bolt as mentioned. Note the removal of the *****ing knob at the rear of the bolt, the new scope safety, flat bolt handle, shaped knob and the angle that the bolt is swept back. The Timney trigger has been shortened and the tip rounded. In the photo you can also see that the rounded ridge behind the stripper clip opeaning has been removed. The bolt body has been polished to 500 grit and jewled or engine turned. The extractor has been blued but should be left polished as it will scratch when the bolt is worked.




Model 96 Swede Left Rear Action

This photo shows the taper cut made to the tang and the fit to the wood. This taper cut prevents the sear from gouging the wood as the bolt is worked. The photo also shows the flush cut firing pin extension, removal of *****ing knob and the scope safety installed.




Model 96 Swede Muzzle

This is the modified muzzle of the 6.5x55 The photo shows my favorite type of crown as turned on a lathe. This is the recessed target crown with the exterior edges broken or rounded and the bore cut left sharp and clean.




Mdl 96 Swede in 6.5x55 built about 1995

Note this photo shows the original Mauser barrel tapered from the first step, near the chamber, to the muzzle. The sights have been removed as have the steps in the barrel, save the very first step.




Mdl 96 Swede Trigger Guard & Bolt Handle

This is the treatment that can be applied to the trigger guard to make a more plesant apperance. The bolt handle is bent and swept. The knob is shaped and drilled. The triggerguard has aprox .250 removed from each side and the connection at the flat is tapered.




6.5x55 Swede w/ Misquete Stock Left side

This is a highly modified Swedish Mauser. In addition to my normal modifications as outlined in my article, this action has been made smaller by reducing the magazine height by one round, then the sides of the stock and buttstock have been thinned to create a sevite little 4 shot rifle. The barrel is original with the steps removed and cut to 20 inches. The stock is screwbean misquete with an English walnut tip. The rifle shoots sub .5 inch groups with the Hornady 140.


---
Posted by SwampFox on Sunday, November 16, 2008 (02:50:48) (8352 reads)
comments? |
| Score: 0
Argentina Bird Hunt 2008
Argentina Bird Hunt 08
Ed Harmon

We left for Argentina on July 18, 2008 and returned to Pensacola on July 26, 2008. During the 8 days we were gone, the group of four hunters shot 21,500 twenty gauge shells, stayed at a first quality, top shelf lodge and ate the very best food served anywhere in Argentina, to include even their finest restaurants, in the largest cities. My Son had returned from his latest tour in Iraq and this was his "welcome home" hunt. This is the story of one trip to Argentina.

I have been many times on the plane ride to and from Argentina but this was the first trip to hunt with the firm of Maers & Goldman. To say it was a memorable trip is an understatement.

The foundation for the 2008 trip started in 2002 when I was invited to go with a bunch of Mississippi
---
Posted by SwampFox on Wednesday, November 05, 2008 (20:53:03) (5453 reads)
comments? |
| Score: 3.5
PACT High Speed Digital Precision Powder Dispenser
PACT High Speed Digital Precision Powder Dispenser
(Originally written in 2005)

Whenever I make up loads that will be near maximum pressure for hunting, or that require extra precision for matches or varmints, I like to weigh every powder charge. The spherical and flake powders generally meter very well, so all I need to do is throw the charge with my old RCBS powder measure and stick it on the scale to verify the weight. However, I never seemed to have much luck doing that with the extruded powders that I
---
Posted by Pumpkinslinger on Monday, May 12, 2008 (20:04:34) (6236 reads)
comments? |
| Score: 4.5
Gun Show Etiquette
Gun Show Etiquette

Ed Harmon

It occurred to me that someone needed to do a gun show manners paper with a list of do
---
Posted by SwampFox on Wednesday, March 19, 2008 (15:49:30) (7472 reads)
comments? |
| Score: 4.5